Aerosmith Unplugged
On The Acoustic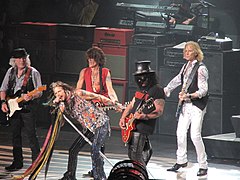 Here on this Aerosmith unplugged songs page you'll find a collection of demo covers and full lesson tutorials available for purchase along with several free chord sheets in pdf. format. Help yourself to the free chord sheets where available.
---
4 Aerosmith Unplugged Songs - Tutorials
1. Cryin ---
Chords
- -
Cart
This song hails from the groups 1993 album "Get A Grip". It peaked at #12 on the Billboard Hot 100 chart and became a bit hit in Norway, Iceland and the UK. The video for the song won several awards and features a 16 year old girl getting a navel piercing, which in 1993, was not common. It's believed this act in the video brought navel piercing into the mainstream.
----------------------------------------
2. Dream On --- Chords - -
Cart
Aerosmith released their debut album in 1973. They hail from the Boston area and radio stations there played Dream On as a regular. It peaked at #59. But a re-release in 1976 took the song to #6 on the rock charts. Tyler actually began writing the song at the age of seventeen, not realizing at the time that years later it would become a worldwide iconic rock tune. All other songs on that debut album, Tyler sang in lower keys trying to sound like other artists. But in this song, he let loose and has since become famous for his high screams and amazing vocal range.
----------------------------------------
3. I Don't Want To Miss A Thing ---
Chords
- -
Cart
There were 3 other songs including this one which were featured in the 1998 film Armageddon which starred Steven Tyler's daughter Liv, who also starred in several Lord Of The Rings movies. The song became the only Aerosmith song to reach #1 in the US. Overseas and in Australia it was also a #1 hit. Country singer Mark Chesnutt recorded the song a year later and he too had a #1 country hit. The Aerosmith music video went on to win several awards as well.
----------------------------------------
4. Sweet Emotion ---
Chords
- -
Cart
Sweet Emotion the groups first song to break into the top 40 when it reached #36. And because of that, they decided to re-release Dream On from a few years earlier where it peaked at #6. Joe Perry used a talk box to sing the chorus under Steven Tylers vocals, for a very unique effect.
----------------------------------------
Aerosmith Documentary
The Official Aerosmith Website
---
HomePage --- American Rock Bands