Alan Jackson Songs
On The Acoustic

Here you'll find 30+ Alan Jackson songs available for the acoustic player. View my acoustic demos as well and if you'd like to purchase any full lesson video, that option is here also and grab the free chord sheets in .pdf format.
Alan Jackson has been a major influence in country music since he first appeared on the scene when he sang a George Jones song during a commercial break on a country music talent show. Anyone know what song he sang before you watch it here?
Alan Jackson Songs - Tutorials
All AJ songs will have their own pages eventually ... here is the first one.
1.
Trying Not To Love You
---
---
---
---
As you likely know already, Alan Jackson isn't only a great musician and entertainer, but he is a fantastic country music song writer. While many artists depend on other writers to come up with great story lines for a song, Alan Jackson songs have for the most part come off the the AL pen.

---
---
---
---
Some songs listed below are old well known standards such as "The Old Rugged Cross" or "I'll Fly Away" or "How Great Thou Art".  But I'm talking about such hits as Chattahoochee, co-written with Jim McBride about the Chattahoochee River. Or when 911 happened, and almost immediately he wrote "Where Were You When The World Stopped Turning".
That is a the talent of a true country music writer when they can take an event, big or small and construct a story from it that invokes real emotion and then put a catchy melody to those words. The man has a true gift in this department.
17.
Let It Be Christmas
---
---
---
---
---
---
Below are some of the Alan Jackson songs and chord sheets I've composed since I started covering this artist.
Not all of the songs have sheets because lyrics and chords sheets were not past of the original site design, but came along later as an after thought. These below are in pdf format so just open the files and download them to your computer.
Where I don't have and Alan Jackson songs chord sheets, you can do a Google Search and find many resources. In most cases they will be in the same key as I'm playing in my tutorial lessons.
---
---
---
Alan Jackson actually got his start in music while working in the mailroom at The Nashville Network. His wife at the time, Denise, introduced Alan to Glen Campbell. And it was through his connections that paid off with a career in music.
He has 16 studio albums to date and from that body of work, 35 #1 hits and 38 other songs reaching the top 5.
Alan Jackson and his wife had a slight separation back in 1998 but reunited and are still together today. They have 3 daughters at 29, 26 and 22. He also sang the closing song at George Jones's funeral.
---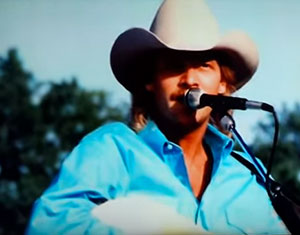 Alan Jackson is touring during the summer of 2019. Catch all of his touring dates and get other great info at the link below.
Thanks for stopping by this Alan Jackson songs page.

---
Alan Jackson's Big Break
Alan Jackson Official Website
---
HomePage --- How To Play Country Guitar