Atlanta Songs On The Acoustic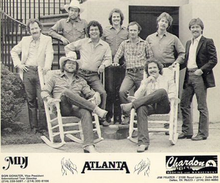 Here on this Atlanta songs page you'll find a collection of demo covers and full lesson tutorials available for purchase along with several free chord sheets in pdf. format. Help yourself to the free chord sheets where available.

Atlanta Songs - Tutorials
This band Atlanta existed only for 2 albums between 1982-1988 but with just two albums charted 9 singles, thow of which were top 10's and one at #11. This song called Blue Side Of the Gray was not a single land came from their first album called "Pictures".
---
Country Products
---
Atlanta Band Sings Sweet Country Music
---
HomePage --- How To Play Country Guitar