Here on this Bobby Darin songs page you'll find a collection of demo covers and full lesson tutorials available for purchase along with several free chord sheets in .pdf format. Help yourself to the free chord sheets where available
1. Dream Lover ---
Bobby Darin wanted to become a well known artist like Frank Sinatra, who was one of his idols. But his start in music was mainly doing cover songs from other artists. His real breakout came when he begain writing his own material. The first song listed here called "Dream Lover" was written by Bobby Darin and released on Mar 5th 1959. The song hit #2 on the US charts and #5 on the R&B charts. Neil Sedaka played piano on the track. Dream Lover did reach #1 in the UK in the summer of 1959.
2. Mack The Knife ---
Later in the fall of 1959 Bobby Darin released "Mack The Knife", which was a German Opera song from 1929. On advice from his close friend Dick Clark not to release the song because it wouldn't appeal to a young Rock N Roll audience, Darin almost listened to Clark. But in the end released the song and it became a monster #1 hit. Louis Armstrong had first released Mack The Knife a few years earlier in 1956 but it didn't have that Vegas zing of Bobby's version. Many artists over the decades have put their own style to the song, but Darin's original is still the most liked version.
3. Splish Splash ---
Of all of the Bobby Darin songs he recorded, this was the breakout song that launched his career. Murray Kaufman was a DJ in New York City and on a dare from Murray's mother Jean, challenged Bobby to write a song that started with the lyrics "Splish Splash I was taking a bath". So Bobby wrote this song and released is in May 1958, which was nearly a year before the tow songs mentioned above. The was Darin's first #1 hit.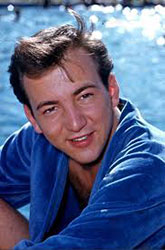 Bobby Darin grew up in the Bronx and was raised by his grandmother (whom he thought was his real mother) and his sister (who was actually his real mother). This bit of info Darin did not realize until it was revealed to him by his real mother when he was 31 years old.
Bobby Darin had some serious bouts as a kid with Rheumatic Fever which had weakened his heart. As a kid he overheard a doctor tell his family he likely wouldn't live much past his teens. Overhearing this planted a seed that he didn't have much time and what time he did have, he'd have to make the best of it.
He made friends with a guy named Don Kirshner who we all know went on to manage The Monkees, The Archies and Kansas along with producing Don Kirshners Rock Concert series. 
This relationship with Don helped Darin secure with a record deal with Decca and then with Atlantic. This great artist didn't just record Bobby Darin songs. He became a song writer for Connie Francis who regrets not marrying Darin when she had the chance. He went on to marry actress Sandra Dee and eventually had a second marriage that also ended in 1973.
Darin got into acting in 1959 and was in 13 films and recorded 28 albums. A fourth song that did well for Darin was "Beyond The Sea" which I haven't covered here.
In 1971 Darin had two heart valves replaced. Remember all through his career in music and acting, oxygen tanks were not far away as Bobby Darin always gave his all and often went on oxygen on a regular basis after performing.
After his second divorce in Oct 1973, Darin entered an LA hospital in Dec. He died on Dec 20th in the recover room after a 5 surgeon team of heart specialists failed to revive him. Bobby Darin was 37.
I hope you've enjoyed this Bobby Darin songs page. I'm sure over time, there will be more covers posted here from this great artist.