Boot Scootin Boogie Chords
On The Acoustic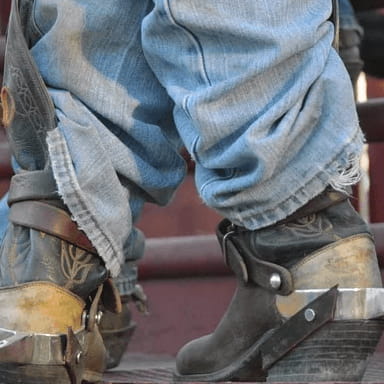 Here on this Boot Scootin Boogie chords page you'll find my acoustic guitar demo, purchase link to the full lesson, the lyrics to the song as well as a free .pdf to the Boot Scootin Boogie chords sheet you can download.

Boot Scootin Boogie Chords
Demo Lyrics & Pdf
Ronnie Dunn wrote Boot Scootin Boogie back in 1990, but Asleep At The Wheel recorded the song first that same year. Brooks & Dunn released the song a year later as a B-side to Brand New Man, but it quickly became apparent that this song deserved to make it to the top, and it did. This was Brooks & Dunn's 4th #1 in the US and also in Canada.
The original key for this one is in E, but vocally it's too high for my vocal range so I'm using the following chords. You can simply capo up two frets to get up to the original key:
As you may have noticed, I'm also using Drop D tuning. 
The rhythm patter here is a simple down up down up with the help of a bit of palm muting with the right hand.
This song has also been credited to the line dance craze, which as you probably have seen, when this song is played by a band or DJ, line dancers take over the dance floor.
---
George Strait Performs Boot Scootin Boogie
---
Boot Scootin Boogie Lyrics
Out in the country past the city limits sign
Well there's a honky tonk near the county line
The joint starts jumpin' every night when the sun goes down
They got whiskey women - music and smoke
It's where all the cowboy folk go to boot scootin' boogie
I've got a good job I work hard for my money
When it's quittin' time - I hit the door runnin'
I fire up my pickup truck and let the horses run
I go flyin' down the highway - To that hideaway
Stuck out in the woods to do the boot scootin boogie
Yeah heel toe do si do come on baby let's go boot scootin'
Oh cadillac blackjack baby meet me out back we're gonna boogie
Oh, get down, turn around, go to town boot scootin' boogie
The bartender asks me says son what'll it be
I want a shot at that redhead yonder lookin' at me
The dance floors hoppin' and it's hotter than the fourth of July
I see outlaws, inlaws crooks and straights - all out makin' it shake doin' the boot scootin' boogie
Yeah heel toe do si do come on baby let's go boot scootin'
Oh cadillac blackjack baby meet me out back we're gonna boogie
Oh, get down, turn around, go to town boot scootin' boogie
I said, get down, turn around, go to town - Boot scootin' boogie
Oh, get down, turn around, go to town - Boot scootin' boogie
---
HomePage --- Brooks And Dunn Chords