Welcome to my Brian Hyland songs page where you'll find a few demo covers and full lesson tutorials available for purchase along with several free chord sheets in .pdf format.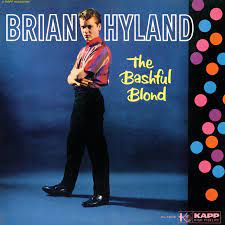 A You're Adorable a.k.a the Alphabet song was first made popular in 1949 by Perry Como and The Fontane Sisters.
Brian Hyland recorded this song for his debut album "The Bashful Blonde" in 1960 but never released his version as a single. 
Sealed With A Kiss was pitched to The Four Voices, who were the first to release this song in 1960. But it was the Brain Hyland version in 1962 which got traction and peaking at #3. He re-released a version in 1975 and in the UK reached #7. Other artists including Bobby Vinton, Gary Lewis And The Playboys and Australian artist Jason Donovan also had success with the song.
The track can be found on the album "Sealed With A Kiss".
Thanks for stopping by my Brian Hyland songs page and I hope you found what you were looking for.