Welcome to my Carl Perkins songs page where you'll find a few demo covers and full lesson tutorials available for purchase along with several free chord sheets in .pdf format. 
Everybody's Tryin To Be My Baby is not actually a 1950s songs but was written in 1936 by Rex Griffin. Carl Perkins recorded his version in 1957 and The Beatles released their version in 1964.
Perkins claimed he'd written the song but he did not. Rex Griffin died two years after Perkins release and likely wasn't even aware of the steal.
It was later released on the 1961 album "Teen Beat: The Best Of Carl Perkins".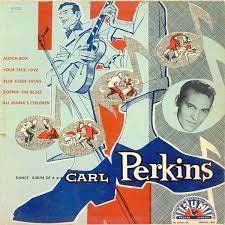 Matchbox was has similar lyrics from a 1927 song called Match Box Blues written by Blind Lemon Jefferson, but with a different melody. Carl Perkins claimed he wrote this one from some lyrics his father remembered from the original song.
Jerry Lee Lewis was a session musician at Sun Records and when he heard Carl belt out a few lines, he launched into a rock-a-billy riff and that was it on Dec 4th 1956. 
The song was a B-side to a song called "Your True Love", which was a hit. But Matchbox became a well known song over the years and can be found on the album "Dance Album Of Carl Perkins".
Thanks for stopping by my Carl Perkins songs page and I hope you found what you were looking for.