Chuck Berry Covers
On The Acoustic
Welcome to this Chuck Berry covers page where you'll find a collection of demo covers and full lesson tutorials available for purchase along with several free chord sheets in .pdf format. Help yourself to the free chord sheets where available.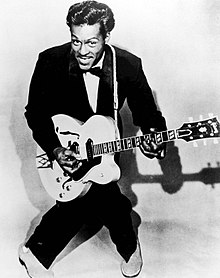 October 18, 1926 – March 18, 2017 - (aged 90)

Chuck Berry Covers List
1. Johnny B Goode
Chords
Buy Full Lesson
Chuck Berry wrote this song about a coloured boy who could play a guitar like a ring in a bell and dreamed that someday he'd see his name in lights. Growing up in St Louis and living on Goode street, you can see how the title came to be. The word coloured was changed to country to ensure the song received airplay on the radio. This was the spring of 1958 after all.
The song went on the become a #2 on the R&B charts and a #8 on the Hot 100. But that opening riff wasn't Chucks. He lifted it from a song back in 1946 by Louis Jordan called "Ain't That Just Like A Woman". Look it up on youtube and you'll hear it virtually note for note. Yes rock n roll was happening in 1946, just with a slightly different vibe of the Big Band sound.
---
2. Run Rudolph Run
Chords
Buy Full Lesson
This song is also known as Run Run Rudolf, but the original title is Run Rudolf Run and was written by Johnny Marks and Marvin Broody. Chuck Berry recorded his version in 1958 and peaked at #69 in the US and #36 in the UK. Country artists Luke Bryan and Justin Moore also had charting with their cover versions in 2008 and 2012 respectively. This song is nearly identical to a song released in 1959 by Chuck Berry called Little Queenie.
---
3. Sweet Little Sixteen
Chords
Buy Full Lesson
This one was recorded in Dec 1957 and was released in Jan 1958 and peaked at #2 in the US and did reach #1 in the UK.
---
4. The Promised Land
Chords
Buy Full Lesson
While doing time, Chuck Berry borrowed an atlas from the prison library to plot the destination and stops along the way from Norfolk VA to The Promised Land, which is this song was Los Angeles CA. The song peaked at #41 in the US after his release from prison but was covered by other artists including Elvis, who took the song to #14. The Grateful Dead played this song 425 times during live concerts from 1971-1995. That has to be some kind of a record.
---
5. You Never Can Tell
Chords
Buy Full Lesson
This song is also known as "C'est La Vie" or the "Teenage Wedding" song and was recorded by other artists including Emmylou Harris, Bob Seger, Bruce Springsteen and others. This song also written while Chuck Berry was in prison, it peaked at #14 in 1964 and was his last big song until "My Ding A-Ling" in 1971.
---
Chuck Berry Documentary
---
HomePage
Acoustic Guitar Rock N Roll Fm Chuck Berry Covers