Tutorial Prices Fm $3.25 - $2.49 - $1.06 ea --> See Right Menu
Dean Martin
Mambo Italiano Chords
Here on this Dean Martin Mambo Italiano chords page you'll find a link to my demo cover and full lesson tutorial available for purchase along and my free chord sheet in pdf. format. Help yourself to all the free chord sheets on my site where available.
Dean Martin Mambo Italiano
Chords Lyrics PDF & Demo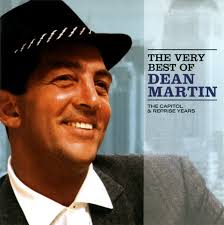 Bob Merrill was a writer who was under a deadline in 1954, and while sitting in an Italian restaurant trying to come up with a song for his approaching deadline, on a napkin he wrote Mambo Italiano. At a nearby pay phone he passed along the melody and lyrics to the pianist who was waiting in the studio.
In walks Rosemary Clooney who records the song and ends up with a #8 hit in her 1955 release in the US and a #3 in Australia. Dean released his version in 1955 and had a #14 hit in the UK and a #2 in Australia. 

As I don't read music I don't have any Dean Martin Mambo Italiano sheet music for this one, but I do have a Mambo Italiano pdf so feel free to download that file.
Here are the Mambo Italiano chords I'm using for this song.
Em 
Am 
B7 
C 
Gb 
G 
E7
D7 
Em/D# 
Em/D 
Db/E 
C7 
D/Gb
Db/E
If you know this song at all it moves along at a pretty good clip. The rhythm starts off as a quick shuffle and then morphs into what I like to call a rake pattern where you play the note of the song and then slowly rake down over the chord as you'll see in the demo. And on top of that you can do a very quick shuffle using a root down up down up root up down up following this rake pattern.
There are also some quick bass runs in this which are all explained in the full tutorial lesson.
Mambo Italiano
Chords - Buy Full Lesson

Click Image For Demo
---
Mambo Italiano Lyrics
A boy went back to Napoli - because he missed the scenery
The native dancers and the charming songs - But wait a minute
Something's wrong --- Hey! Hey!
Hey Mambo, Mambo Italiano! - Hey Mambo, Mambo Italiano!
Go go Joe - you mixed up Sigiliano
All you Calabrese do the mambo like crazy
And hey Mambo! Don't want to tarantella
Hey Mambo! No more-a mozzarella
Hey Mambo! Hey Mambo Italiano
Try an enchilada with a fish-a-barcalad.
Hey goombah! - I love-a how you dance rumba
But take-a some advice paisano learn how to mambo
If you're gonna be a square you're never gonna go nowhere
Hey Mambo, Mambo Italiano! - Hey Mambo, hey Mambo Italiano!
Go, go, Joe, shake-a like a Gioviano
Hello quesadicha -you getta happy in the feets-a - when you
Mambo Italiano!
Shake-a baby, shake-a, 'cause I love-a when you take-a me.
Hey Jagool! - You don't-a have to go to school
just make a little beef flambino It's-a like-a vino
Kid you're good-lookin'but you don't know what's-a cookin' till you –
Hey! Hey! Hey! Hey!
Shake-a baby shake-a 'cause I love it when you take-a me
By the pizzeria down-a where I'm gonna be-a
Don't ya tell your mama Mama's gonna tell-a papa
There's-a nothin' to it ---- Come on baby let's-a do it!
Hey Mambo, Mambo Italiano! - Hey Mambo, Mambo Italiano!
Go go Joe, you mixed up Sigiliano.
It's-a so delish-a, everybody gonna preshiada.
Mambo Italiano!
Thanks for stopping by this Dean Martin Mambo Italiano chords page and I hope you found the info here helpful.
---
Mambo Italiano Music Video
Acoustic Guitar Rock N Roll
Back To Dean Martin Top Hits Fm Dean Martin Mambo Italiano Chords