Contact Me ---- Kirby's Going AI
Tutorials $3.25ea (fingerpicking $5) or any 10 for $10 (use "Any10410" at checkout)
Best Deal - Any 50 for $25 Details here.
Paid request to learn your fav song $25 (comes with any 8 freebies - so 9 for $25)
*NEW* - Zoom Calls With Kirby @ $25/hr - Contact Me for a session
Elvis Presley Kentucky Rain
Elvis Presley Kentucky Rain
On The Acoustic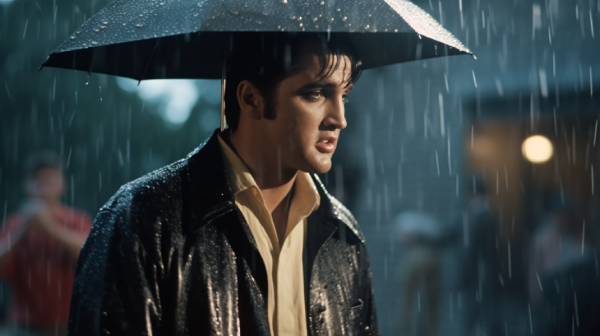 Welcome to my Elvis Presley Kentucky Rain page you'll find the lyrics to this song, a free pdf chords and lyrics sheet along with tutorial demos and a link to purchase full lessons in .mp4 format.  
---
Elvis Presley Kentucky Rain
Chords, Lyrics, Demo, Tutorial

Kentucky Rain is a popular song that Elvis recorded in 1970. It was written by Eddie Rabbitt and Dick Heard, and it was released as a single by Elvis Presley in January 1970, peaking at #3 on the US country charts.

It's a country-infused ballad that tells the story of a man searching for his lost love in the pouring rain in Kentucky. The song's narrative is filled with longing, heartbreak, and a sense of desperation as the protagonist tries to find his beloved. Elvis Presley's soulful and emotive vocals add depth and emotion to the song, capturing the pain and yearning of the lyrics.
The musical arrangement of "Kentucky Rain" features a blend of country, pop, and rock elements, including guitar, piano, and strings, which create a melodic and evocative sound. The song's heartfelt lyrics and Elvis Presley's powerful performance make it a standout track in his discography.
As for a music video, there is indeed an official music video for "Kentucky Rain". The video was filmed in 1970 as part of the documentary film "Elvis: That's the Way It Is," which chronicles Presley's return to live performances in Las Vegas. The video features footage of Presley performing the song on stage, intercut with scenes of him traveling and singing in various locations. It captures Presley's charismatic stage presence and showcases his powerful vocal performance of "Kentucky Rain".
On the official Elvis Youtube channel, you'll find an official audio of this song.

The song has been covered by various artists, but Elvis Presley's rendition remains a beloved version that showcases his vocal prowess and emotional connection to his music.
The track can be found on his "Worldwide 50 Gold Award Hits Vol 1" album.
Kentucky Rain Lyrics
Seven lonely days and a dozen towns ago
I reached out one night and you were gone
Don't know why you'd run, what you're running to or from
All I know is I want to bring you home
So I'm walking in the rain, thumbing for a ride
On this lonely Kentucky back road
I've loved you much too long, my love's too strong
To let you go, never knowing what went wrong
Kentucky rain keeps pouring downFmaj7
And up ahead's another town that I'll go walking through
With the rain in my shoes - searching for you
In the cold Kentucky rain --------- in the cold Kentucky rain
Showed your photograph to some old gray-bearded men
Sitting on a bench outside a general store
They said, "Yes, she's been here" - but their memory wasn't clear
Was it yesterday? - No, wait - the day before
Finally got a ride with a preacher man who asked
"Where you bound on such a cold dark afternoon?"
As we drove on through the rain, as he listened, I explained
And he left me - with a prayer that I'd find you
Kentucky rain keeps pouring down
And up ahead's another town that I'll go walking through
With the rain in my shoes - searching for you
In the cold Kentucky rain --------- in the cold Kentucky rain
In the cold Kentucky rain
Drop D Tuning: No

Capo: No

Rhythm: use a down down up down up down up shuffle pattern - and a few chops in the rhythm

Picking: just a few arpeggio notes

Chords: Fmaj7. Cmaj7, Gsus, G, C, F, G6, Am, D, D7, Dm, Em
Chords & Lyrics
Jump To Top
---
Kentucky Rain Tips
The rhythm in the beginning of this song is a combo of downstrokes and arpeggio note picking as you move through the intro chords. Once the singing kicks in you'll play a down down up down up down up and repeat that pattern. Or you can simply play a down up down up pattern and that will still work.

There are a few stops and quiet moments in this one also where you will chop up the chords a bit so watch for that. And you'll use some of that arpeggio in spots throughout the song.
I find this one a bit to sing with my vocal range but maybe it will work for you in this key. There is no lead playing so it's mainly just rhythm with a few arpeggio notes.

Thanks for stopping by my Elvis Presley Kentucky Rain page and I hope the info here was helpful.

Elvis Official Store
If you liked this Elvis Presley page you might also like ... (click images)

---
Elvis Presley Kentucky Rain

---
Home Page
Elvis Presley Page