Elvis Presley Movie Songs
On The Acoustic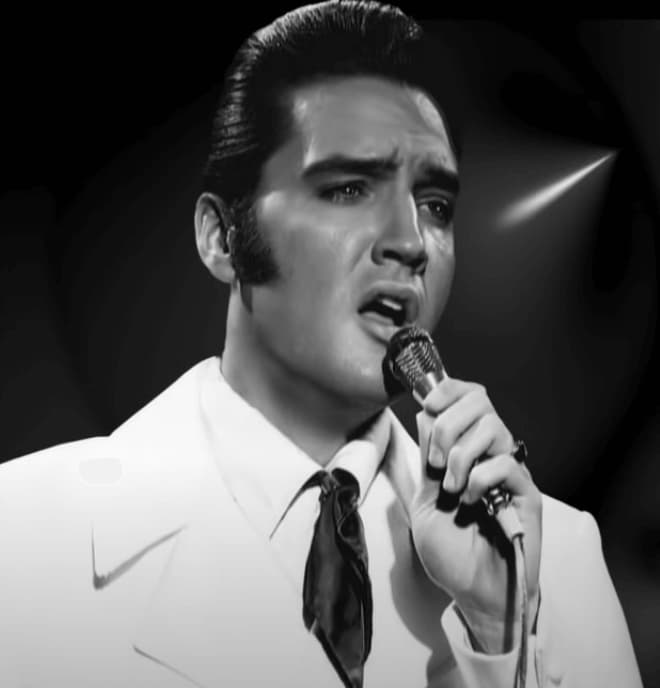 Below is a list of 4 Elvis Presley movie songs I have covered on the acoustic guitar that you can easily learn with these free lessons. I have other Elvis sections to explore from the link below but I want to limit pages to a max of 5 videos so the page doesn't take all day to load for you.
There are free chords sheets in pdf, lyrics, clips of Elvis, rhythm tips and links to full tutorial lessons you can purchase for a few bucks if you'd like to help support this website.
4 Elvis Presley Movie Songs
1. Crawfish
Elvis recorded this track with well known LA nightclub jazz artist Kitty White for his 1958 movie King Creole. A pretty simple arrangement with just 2 chords. Th Clash frontman Joe Strummer said this was his favourite Elvis song. So much so that he included it in a 2007 documentary entitled, Joe Strummer: The Future Is Unwritten.
Of all the songs Elvis recorded and released as hit, this song was not one of them.
Johnny Thunders and Patti Palladin covered the song back in 1985 as part of their CopyCats album.
Drop D Tuning = No
Capo = No
Rhythm = a root down root up down up will work for this one
Picking = No
Chords = Gm, Dm (D)
2. Doin The Best I Can
Doc Pomus and Mort Shuman wrote this song which Elvis recorded as a track for his GI Blues film from 1960. A clip below is from the movie with Elvis singing this one in the movie. The song became one of four which was included on the "Command Performances: The Essential 60s Masters II" which was a 2 disc set of songs recorded by Elvis thru the 1960s.

Drop D Tuning = No
Capo = No
Rhythm = use either a down up down up down up and repeat or use a down down down up down up and repeat
Picking = No 
Chords = G, G7, D, D7, C, A7, Am
3. El Toro
El Toro was a song written for the movie Fun In Acapulco and was part of the album release in 1963, but the song itself, although it appeared in the film, was never released on its own as a single. 

Drop D Tuning = No
Capo = No
Rhythm = down up down up down down down up down up is the pattern here
Picking = No
Chords = E, F, G, Am
4. Golden Coins
By 1965, Elvis was getting weary of doing movies and recording soundtracks. And from this album for the movie Harum Scarum,  there were no singles and box office sales were way down. A single was released a month after the film debut, but it was from 1957 and barely cracked the top 40.  This time frame was considered the lowest point in the career of Elvis Presley.
I can only image what must have been going thru Elvis's mind when only a few years earlier her was on top and now he was struggling to be relevant.
Drop D Tuning = No
Capo = 2nd fret
Rhythm = a root down up down up root up down up and repeat
Picking = No
Chords = Dm, E7, C#6, Am7, F, Cmaj7
That is the first section of Elvis Presley Movie Songs. Use the link below to get back to the main directory of Elvis material.

All Elvis Presley Movie Songs
Homepage