Tutorial Prices Fm $3.25 - $2.49 - $1.06 ea --> See Right Menu
Emmylou Harris Her Best Songs
On The Acoustic
Here on this Emmylou Harris her best songs page you'll find many free pdf chord and lyric sheets along with tutorial demos and links to purchase full lessons in .mp4 format.  To date I've covered more Emmylou Harris top songs than any other female artist.
Emmylou is admired by many artists across many musical styles. She can sing virtually any style of music, and having a long successful career in music is a testament of her talents. Here I've tried to cover some of the Emmylou Harris popular songs out there. 
---
Emmylou Harris Her Best Songs - Tutorials
1. Bluebird Wine
Chords
Buy Full Lesson
Rodney Crowell actually wrote this song and Emmylou recorded it before ever meeting him. She made a request to meet him and on that day, invited him to play guitar in her band, which he accepted.
---
2. Feeling Single Seeing Double
Chords
Buy Full Lesson
Not much info available about this song which appeared on her 1975 album, Elite Hotel.
---
3. Gold Watch And Chain
Chords
Buy Full Lesson
One of the earliest recording of this song is by The Carter Family back in 1933-1934. Emmylou covered the song for her 1980 album entitled Roses In The Snow.
---
4. Satan's Jeweled Crown
Chords
Buy Full Lesson
Elite Hotel was the 2nd album from Emmylou Harris in 1975. The album contained a selection of songs from The Beatles, Buck Owens, Don Gibson, Hank Williams and others.
---
5. Save The Last Dance For Me
Chords
Buy Full Lesson
This is an old Drifters song from 1960. Emmylou covered the song in 1979 in a bluegrass format for her Blue Kentucky Girl album and had a top 10 country hit.
---
6. The Green Rolling Hills Of West Virginia
Chords
Buy Full Lesson
Emmylou recorded her version for the album Quarter Moon In A Ten Cent Town which was released in 1978.
---
7. Til I Gain Control Again
Chords
Buy Full Lesson
Til I Gain control again was written by Rodney Crowell in 1975. Emmylou put the song on her 1975 Elite Hotel album.
---
8. Two More Bottles Of Wine
Chords
Buy Full Lesson
Emmylou scored a #1 hit with her version of this Delbert McClinton song in 1978.
---
9. When I Stop Dreaming
Chords
Buy Full Lesson
This is an old Louvin Brothers song which Emmylou put on her 1977 album, Luxury Liner.
---
10. When They Ring Those Golden Bells
Chords
Buy Full Lesson
---
11. Where Could I Go But To The Lord
Chords
Buy Full Lesson
This song was a track on Emmylou's album entitled Angel Band, which was a live acoustic album featuring Jerry Douglas, Vince Gill, Mark O'Connor, Carl Jackson and Emory Gordy Jr.
---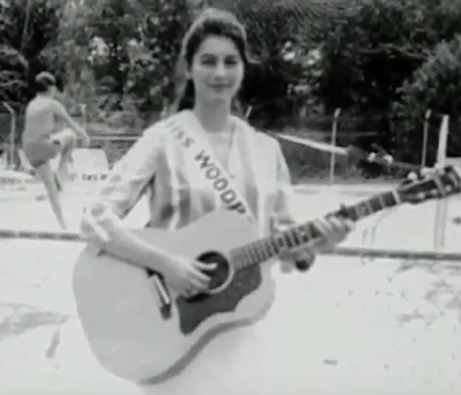 Emmylou has worked with many artists over the years across all styles and as she said in an interview, one song at a time.
She has won 14 Grammy Awards, 3 CMA Awards and 2 AMA Awards to date. There have been several Emmylou Harris Greatest Hits albums over the years so that should tell you something.
Her roots began in folk music being inspired by artists such as Joan Biaz, Bob Dylan, Buffy St Marie, Ian & Sylvia and Pete Seeger. Later on working with the late Gram Parsons, she got into the country music field.
Emmylou was on a drama scholarship to become an actress, but followed a bunch of hippies to Virginia Beach and then followed a career into music. A decision I'll bet she doesn't regret at all.
At the links on this page you'll find some of the Emmylou Harris best songs to learn on the acoustic guitar. 
---
Emmylou Harris Official Website
---
Emmylou Harris Her Best Songs Music Interview
(yes the video is there)
HomePage
Fm Emmylou Harris Her Best Songs To Easy Female Country Guitar Songs