Jimmy Reed Songs On The Acoustic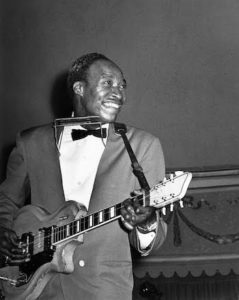 Sept 6, 1925 – Aug 29, 1976 (aged 50)

Here you'll find Jimmy Reed songs available for the acoustic player. View my acoustic demos as well and if you'd like to purchase any full lesson video, that option is here also and grab the free chord sheets in .pdf format.
Jimmy Reed Songs - Tutorials
Jimmy Reed was the first but not the last to record this song Bright Lights Big City back in Chicago in 1961. jimmy and his wife wrote this song and his song Jimmy Jr played guitar on the recording. It reached #3 on the R&B chart and #53 on the Billboard Hot 100 chart in 1961. Country singer Sonny James recorded a cover version ten years later in 1971 and had a #1 hit with his cover.
Thanks for stopping by this Jimmy Reed songs page.
---
Jimmy Reed Products
Jimmy Reed Plays Big Boss Man
---
HomePage --- How To Play Blues Guitar