Thanks for stopping by my JJ Cale acoustic guitar covers page. Below are five great JJ Cale songs you can easily learn on the acoustic. View my demos and download the free .pdf chord sheets.
I've included JJ Cale album covers so you know where each song originated. If you need or want to purchase the full lesson, it's available for a few bucks or less with a bulk purchase.
Jump links to quickly access to JJ Cale songs sections.

JJ Cale first released this song back in 1966 and a few years later, Eric Clapton covered it for his Eponymous album. Because of Clapton's success with the song, Cale re-recorded it in 1971 for his album "Naturally".
His re-release peaked at #42 on Billboards Hot 100 chart in te US. This was also the first song Cale had heard of his on the radio. Although it was Clapton's version, he was happy as it also brought in some needed money. 
In 1987, Clapton used the song in a Michelob beer commercial.
This song also appeared on Cale's 1972 album "Naturally" and was one of the early songs to incorporate a drum machine. Many artists have covered this song including 
Eric Clapton, Lynyrd Skynyrd, Bobby Bare and Johnny Cash to name a few.
Clapton also did a tribute to Cale in 2014 as well as a music video.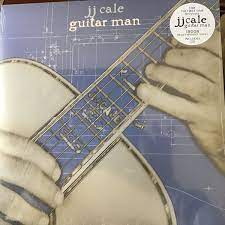 This song hails from the 1996 album "Guitar Man". After the release of this album, in which Cale played all of the instruments except for the drums, he would not release another album for eight years.
Hi wife played some guitar and backup vocals on Death In The Wilderness. Cale never had much success with single releases after the mid 1970's and this song was never released as a single.
This song was never released as a single but can be found on the album "The Road To Escondido" which was a collaboration with Eric Clapton that was released in Nov of 2006.
It was also the last album Billy Preston recorded where he passed away in the summer of 2006, a few month before the recorded release. Album won The Best Contemporary Blues Award in 2008.
Another song that was never released as a single but can found on JJ Cale's 1983 album "#8" and takes about the rough living of urban life. This was JJ Cale's first album to not make the charts, which many speculate was the reason he took some time off.

Thanks for stopping by my JJ Cale acoustic guitar covers page for the acoustic guitar and I hope you found the info here useful in helping you learning the best JJ Cale songs on acoustic.