Johnny Cash Guitar Chords
Tutorials & Demos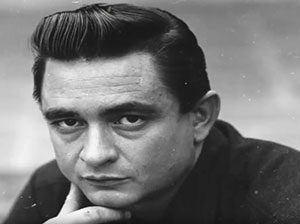 Feb 26th, 1932 – Sep 12th, 2003 (aged 71)

Here on this Johnny Cash guitar chords page you'll find a collection of free chord sheets, demo covers and full lesson tutorials available for purchase. Help yourself to the free chord sheets where available.

Johnny Cash Guitar Chords
Below are 28 songs I've covered so far and 25 have free chord sheets available in pdf format that you can download.  Eventually I'll get those other 3 sheets in place.  
Johnny Cash's Fav Guitar Chords
You'll find that many of Johnny Cash songs are three chord songs, especially the earlier recordings. And with Johnny's low vocal range, E, A and B7 were favorite chords.
I have been toying with the idea of posting chord sheets into web pages as you see below. Pdf files are at least downloadable but with 2 browser windows open, one could play along with the demo while having the chord web page open as well. I haven't decided yet on the web page format as it's quite a lot of work.   
Folson Prison Blues
---
Johnny Cash Documentary
HomePage --- How To Play Country Guitar