Lady Down On Love Chords
On The Acoustic
Welcome to my Lady Down On Love chords and lyrics page where you'll find my acoustic guitar demo, purchase link to the full lesson, the lyrics to the song as well as a free .pdf you can download.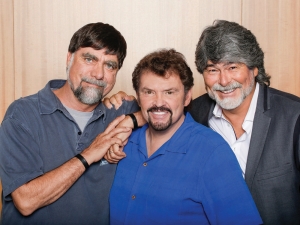 Lady Down On Love Chords 
Demo Lyrics & Pdf
This one was written by Randy Owen of Alabama and reached #1 in the summer of 1983. A song about celebrating a divorce, when the lady isn't doing much celebrating with her friends on a night out on the town. That true story was the inspiration for the song that Randy witnessed first hand at a hotel nightclub. 
Another song by Alabama that goes through a key change near the end of the song.
You'll  want to start this with a capo on the 3rd fret for the original key. The the following chords will come into play.
This is a great song for a 3 part harmony band, especially near the end where there is no music, only vocals.
In the beginning of this song you can use some arpeggio playing as you move through each chord and eventually move it into a root up down up - root up down up strumming pattern.
Lady Down On Love
Chords - Buy Full Lesson
Click Image For Demo
There isn't any lead guitar work required for this song.
---
Lady Down On Love Lyrics
It's her first night on the town-since she was just eighteen
A lady down on love-and out of hope and dreams
The ties that once bound her-now are broke away
And she's like a baby-just learning how to play
She never thought that love-could ever end so soon
Her mind drifts back in time-to a mid-summer moon
When he asked her to marry-and she gladly said okay
And a woman came to be-from the girl of yesterday.
Now, she's a lady-down on love
She needs somebody-to gently pick her up
She's got her freedom- but she'd rather-be bound
To a man who would love her-and never let her down.
Well, I know a lady-that's down on her love
'Cause I used to hold her - and have that special touch
But work took me away-from home late at nights
And I wasn't there-when she turned out the lights
Then both of us got lonely-and I gave into lust
And she just couldn't live-with a man she couldn't trust.
Now, she's a lady-down on love
She needs somebody-to gently pick her up
She's got her freedom- but she'd rather-be bound
To a man who would love her-and never let her down
Now shes a lady down on love
---
Country Music Groups --- Alabama Back Home Country Music