Midnight In Montgomery Lyrics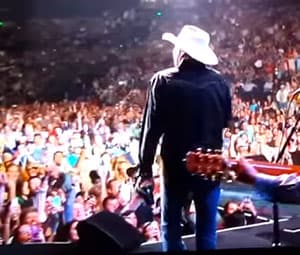 Here on this Midnight In Montgomery lyrics page you'll find my acoustic guitar demo, purchase link to the full lesson, the lyrics to the song as well as a free .pdf to the Midnight In Montgomery lyrics and chords sheet you can download.

Midnight In Montgomery Lyrics
Bob McDill, who was an active songwriter between 1960 and 2000, wrote Gone Country which Alan Jackson recorded for his Who Am I album which was released back in Nov 1994. McDill had 31 #1 hits during his active writing career and had songs recorded by Ray Charles, Don Williams, Joe Cocker, Waylon Jennings and others.

When Alan Jackson released this song, it was the  third single from the album. His first two singles went to number 1 which were Summertime Blues and Livin On Love. This song also hit the #1 ranking in the US and #2 in Canada.
---
Midnight In Montgomery Lyrics
Midnight in Montgomery Silver Eagle, Lonely Road
I was on my way to Mobile, for a big New Year's Eve show
Stopped for just a minute, to see a friend outside of town
With my collar up, I found his name , and felt the wind die down
And a drunk man in a cowboy hat , took me by surprise
Wearin' shiny boots, a nudie suit, and haunted, haunted eyes
He said: "Friend, it's good to see you , It's nice to know you care"
Then the wind picked up and he was gone , was he ever really there?
'Cause it's midnight in Montgomery
Just hear that whip-poor-will
See the stars light up the purple sky
Feel that lonesome chill
'Cause when the wind is right, you'll hear his song smell whisky in the air
Midnight in Montgomery , He's always singin' there
Well, I climbed back on that eagle, took one last look around
Red tail lights, shadow moves slow across the ground
And off somewhere a midnight train is slowly passin' by
I can hear that wistle moanin', I'm so lonesome I could cry
'Cause it's midnight in Montgomery
Just hear that whip-poor-will
See the stars light up the purple sky
Feel that lonesome chill
'Cause when the wind is right you'll hear his song, smell whisky in the air
Midnight in Montgomery
He's always singin' there, he's always singin' there
Well, Hank's always singin' there
---
Midnight In Montgomery - In Memory Of Hank 
Country Music Guitar Lessons --- Alan Jackson Songs