REM Songs
On The Acoustic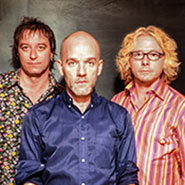 Here on this REM songs page you'll find a collection of demo covers and full lesson tutorials available for purchase along with several free chord sheets in pdf. format. Help yourself to the free chord sheets where available.
2.
Nightswimming
3.
Shiny Happy People
4.
Talk About The Passion
5. The One I Love
REM Songs - Tutorials
This song by REM is off of their 1991 album "Out Of Time". The song revolves around a mandolin riff from Peter Buck who just purchased a mandolin and was trying to learn how to pay it. This became the groups biggest charting song in the US to date at #4 on the Billboard chart. This song won 2 Grammy's in 1992. 
---
REM Documentary
Homepage -- Classic Rock Guitar Lessons