Welcome to my Ritchie Valens songs page where you'll find a few demo covers and full lesson tutorials available for purchase along with several free chord sheets in .pdf format.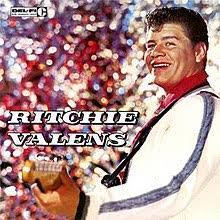 Come On Let's Go hails from 1958 and was written by Ritchie Valens himself.
It peaked at #42 on Billboard and was one of four singles from his debut album "Ritchie Valens".
Donna was kept out of the #1 spot in 1958 by a song called Stagger Lee, but a #2 hit is nothing to sneeze at, especially if you're only 17.
Ritchie Valens wrote this number and it appeared on the A-side with La Bamba on the B-side.
Only three singles were ever released in Valens life and the other two were "Come On Let's Go" and "Fast Freight".
Thanks for stopping by my Ritche Valens songs page and I hope you found what you were looking for.