Robert Johnson Songs On The Acoustic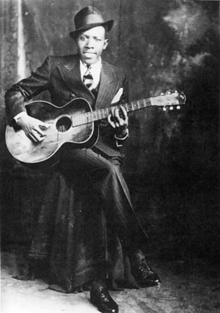 May 8th, 1911 – Aug 16th, 1938 (aged 27)

Here you'll find Robert Johnson songs available for the acoustic player. View my acoustic demos as well and if you'd like to purchase any full lesson video, that option is here also and grab the free chord sheets in .pdf format.
Robert Johnson Songs - Tutorials
This song was written by Eddie James House a.k.a Son House back in 1039. Robert John along with Muddy Waters and other adopted the song with their own arrangement for their performances. Johnson also altered parts in the lyrics of Walking Blues for his own version.
Thanks for stopping by this Robert Johnson songs page.
---
Robert Johnson Products
Robert Johnson Documentary
---
HomePage --- How To Play Blues Guitar