Roy Orbison Guitar Lessons
On The Acoustic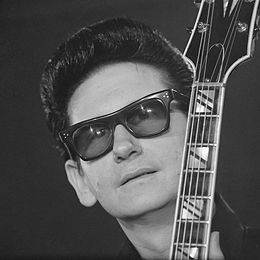 Here on this Roy Orbison guitar lessons page you'll find a collection of demo covers and full lesson tutorials available for purchase along with several free chord sheets in pdf. format. Help yourself to the free chord sheets where available.
Roy Orbison Guitar Lessons - Tutorials
California Blue
Chords
Buy Full Lesson
This song was from the album "Mystery Girl" which was completed one month before Roy Orbison died at age 52 in Dec 1988. The song was written by Orbison, Tom Petty and jeff Lynne.
---
Cryin
Chords
Buy Full Lesson
Many people may not know this but this song goes all the way back to 1961 when it was first released and became a #2 hit for Roy Orbison. It did reach #1 in Canada, UK, Belgium and The Netherlands. In 1980 folk artist Don McLean did a cover of the song.
---
Dream Baby
Chords
Buy Full Lesson
Strangely enough this number was released back in Feb of 1962 as a single but wasn't part of any album. It was just a track they decided to release and it was a #1 and a top 10 in several countries. Later on it was included on a greatest hits album. Glen Campbell covered the song in 1971.
---
I Drove All Night
Chords
Buy Full Lesson
This song was written specifically for Roy Orbison by two writers, but for some reason he delayed on recording it and when he finally did in 1987, it wasn't released until three years after his 1989 passing. By then, Cindi Lauper and Celine Dion had major hits with the song.
---
In Dreams
Chords
Buy Full Lesson
Roy Orbison wrote this song back in the 1960's and released a single in Feb 1963. The song did well peaking at #7 in the US and an album followed later that year of the same name. The song really showcases Orbison's vocal range as it goes beyond what even most rock singers can reach. It was re-released again in 1987 and also used in the 1986 movie Blue Velvet. I can teach you how to play this with my Roy Orbison guitar lessons, but now how to sing it like Roy ... lol.
---
Mean Woman Blues
None
Buy Full Lesson
Elvis Presley recorded this one first in 1957 and had a #11 hit and then Roy came in with his version in 1963 and took the song to #5.
---
Only The Lonely
None
Buy Full Lesson
This song Roy wrote with Joe Melson at a time when he did not have much success in the music biz during the early part of 1960. They pitched the song to a guy named Elvis and a couple of brothers calling themselves The Everly Brothers, but both of them refused to record the song. So Roy recorded the song himself and had a #2 in the US and a #1 in the UK later on in 1960. When Elvis first heard the song, he bought a box of records and handed them out to friends.
---
Ooby Dooby
Chords
Buy Full Lesson
---
Pretty Paper
Chords
Buy Full Lesson
Willie Nelson wrote this song back in 1963 after seeing a guy with what appeared to be no legs, selling pencils and paper outside fo a department store in Fort Worth Texas. The man had a childhood disease and his legs were severely atrophied. Willie pitched the song to Fred Foster, a record producer who pitched it to Roy Orbison. Roy recorded that song, and a B-side on the same day he had a 102 deg fever on Sep 11, 1963. Willie recorded his version in 1964.
---
Pretty Woman
Chords
Buy Full Lesson
On an evening when Roy's wife Claudette was heading out the door, Roy asked if she had enough money to which she replied, "a pretty woman never needs any money". And there you have it ... a #1 for Roy in the US and UK back in 1964. The song was later used in the 1990 film of the same name. This is one of those Roy Orbison guitar lessons that is a must to learn for a gig.
---
She's A Mystery To Me
Chords
Buy Full Lesson
---
You Got It
Chords
Buy Full Lesson
Bono from U2 was listening to Roy Orbison's "In Dreams" on repeat and this song came to him during the nighttime. He thought is was on the CD, but when he realized it was not, he wrote it down. The next day before a concert, he played it for the band and then after the show, Roy Orbison shows up in a surprise visit. The two worked on the song months later and Roy recorded it for his "Mystery Girl" album. It was a top 30 in the US and UK and peaking at #5 in Ireland.
---
You're My Baby
Chords
Buy Full Lesson
This song was written by Johnny Cash and Roy recorded it back in 1956 at Sun Records when he and a bunch of others were laying the foundation for a new wave of music.
Thanks for stopping by this Roy Orbison guitar lessons page and I hope you found the info listed here helpful.
---
Roy Orbison Documentary
---
HomePage
Classic Rock Artists Fm Roy Orbison Guitar Lessons