Tutorial Prices Fm $3.25 - $2.49 - $1.06 ea --> See Right Menu
Hundreds Of Free Chords & Lyrics Sheets
Small Town Southern Man Lyrics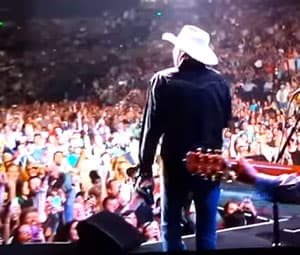 Here on this Small Town Southern Man lyrics page you'll find my acoustic guitar demo, purchase link to the full lesson, the lyrics to the song as well as a free .pdf to the Small Town Southern Man lyrics and chords sheet you can download.

Small Town Southern Lyrics
In Nov 2007 Alan Jackson released Small Town Southern Man. The song was written by Jackson himself for the album "Good Times". He had a three year drought since his previous #1 which was Remember When, so this one topped the Country Charts for him in the US.
---
Small Town Southern Man Lyrics
Born the middle son of a farmer
And a small town southern man
Like his daddy's daddy before him
Brought up workin' on the land
Fell in love with a small town woman
And they married up and settled down
Natural way of life if you're lucky
For a small town Southern man
First there came four pretty daughters
For this small town Southern man
Then a few years later came another
A boy, he wasn't planned
Seven people living all together
In a house built with his own hands
Little words with love and understanding
From a small town Southern man
And he bowed his head to Jesus
And he stood for Uncle Sam
And he only loved one woman
He was always proud of what he had
He said his greatest contribution
Is the ones you leave behind
Raised on the ways and gentle kindness
Of a small town Southern man
Callous hands told the story
For this small town southern man
He gave it all to keep it all together
And keep his family on his land
Like his daddy years wore out his body
Made it hard just to walk and stand
You can break the back but you can't break the spirit
Of a small town Southern man
And he bowed his head to Jesus
And he stood for Uncle Sam
And he only loved one woman
He was always proud of what he had
He said his greatest contribution
Is the ones you leave behind
Raised on the ways and gentle kindness
Of a small town Southern man
Finally death came callin'
For this small town Southern man
He said it's alright cause I see angels
And they got me by the hand
Don't you cry and don't you worry
I'm blessed and I know I am
'Cause God has a place in heaven
For a small town Southern man
And he bowed his head to Jesus
And he stood for Uncle Sam
And he only loved one woman
He was always proud of what he had
He said his greatest contribution
Is the ones you leave behind
Raised on the ways and gentle kindness
Of a small town Southern man
Raised on the ways and gentle kindness
Of a small town Southern man
---
Small Town Southern Man Live
Country Music Guitar Lessons --- Alan Jackson Songs