Smokey Robinson Songs
On The Acoustic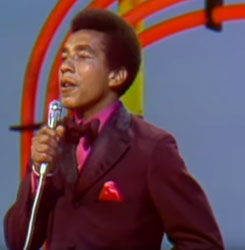 Here on this Smokey Robinson songs page you'll find a collection of demo covers and full lesson tutorials available for purchase along with several free chord sheets in pdf. format. Help yourself to the free chord sheets where available.
---
Smokey Robinson Songs - Tutorials
Going To A Go Go was not only the name of the single, but also the 1965 album name as well. The song peaked at #11 on the Hot 100 chart and #2 on the R&B charts. This was the first album where the band was known as Smokey Robinson & The Miracles. For the record, Go Go clubs and parties became popular in the mid 60's partly due to this song. 
When Smokey Robinson said the following to the sales clerk about pearls he was buying his wife "I sure hopes she like them", Al Cleveland piped up and said "I second that emotion" instead of saying "I second that motion". That incorrect phrase led to both men co-writing I Second That Emotion released in Dec 1967 and hit #1 on the R&B Charts and #4 on the Hot 100. 
---
When the album "Make It Happen" was released in 1967, this song The Tears Of A Clown was not a single. But three years later Motown Britain released is as a single in the UK and it hit #1. They then released it in the US and the same thing happened. Stevie Wonder and his producer Hank Cosby wrote the music and Smokey provided the lyrics. 
---
Smokey Robinson Background
Smokey Robinson grew up in Detroit and lived just a few houses from Aretha Franklin, whom he has known since about age 5. His real name is William but was given the nickname Smokey by his uncle, which has been with him ever since.
In 1957 Smokey and some friends formed the singing group known as The Matadors and who had just changed their name to The Miracles. They were doing the club circuit and performing songs written by Smokey. Got A Job was their first single. Within two month Robinson quit his electrical engineering career to focus on music. Wise choice.
In 1972 Smokey moved on and left the group to focus on duties as VP of Motown records. In 1973 he started a solo career. With the Miracles Smokey racked up about a dozen top 10 songs (a few #1's). During his solo career with his last album in 2014, Smokey has another 15 top 10's with a few #1's in the mix and has gone on to work with and produce some great artists and their songs.
---
Smokey Robinson Interview
---
Thanks for stopping by this Smokey Robinson songs page. I'm sure I'll be covering many more great songs by this artist and group over time.
HomePage --- How To Play Motown Guitar