Sweet Emotion
Chords And Lyrics
On The Acoustic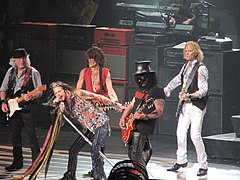 Welcome to my Sweet Emotion chords and lyrics page you'll find my free pdf below, an acoustic demo, song lyrics, a clip of Aerosmith, some rhythm tips and a purchase link for the full tutorial lesson.
Sweet Emotion
Chords And Lyrics
Demo Tips & Pdf
In 1975 the album "Toys In The Attic" was released. I remember it well as my older brother had it and I played that album many times where he was out chasing girls.
The song was released as a single in the Spring of 1975. It broke into the top 40 so the band went back two years and re-released Dream On, which eventually hit #6.
Joe Perry used a "talk box" in the beginning part of this song which a few artists used in the 1970s including Peter Frampton on his song Show Me The Way.
Drop D Tuning = Yes
Capo = No
Rhythm = you're playing a D and A during the verse and that can be covered off with a shuffle strum while the chorus has a riff you'll play while singing
Picking = Riffs in the rhythm
Chords = A, D, Gb, G, Ab, E 
---
Sweet Emotion Lyrics
Sweet emotion - Sweet emotion
You talk about things that nobody cares
You're wearing out things that nobody wears
You're calling my name but I gotta make clear
I can't say baby where I'll be in a year
When some sweat hog mama with a face like a gent
Said my get up and go must've got up and went
Well I got good news, she's a real good liar
'Cause the backstage boogie sets your pants on fire
Sweet emotion - Sweet emotion
When I pulled into town in a police car
Your daddy said I took it just a little too far
You're telling me things but your girlfriend lied
You can't catch me 'cause the rabbit done died ----- Yes it did
You stand in the front just a shakin' your ass
I'll take you backstage, you can drink from my glass
We're talking about something I can sure understand
'Cause a month on the road an' I'll be eating from your hand
Thanks for stopping by my Sweet Emotion chords and lyrics page. I hope the info here was useful and if it was feel free to share it on social media.
---
Sweet Emotion - Aerosmith Live
---
Homepage --- Classic Rock Bands