The Band Greatest Hits 
On The Acoustic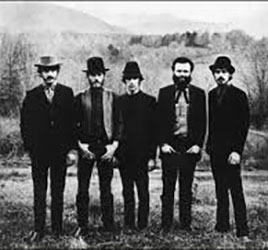 Here you'll find several of The Band greatest hits chords and lyrics available for the acoustic player for several popular songs. View my acoustic demos as well and if you'd like to purchase any full lesson video, that option is here also. Download the free chord sheets in .pdf format where available.
The Band Greatest Hits - Tutorials
1. Evangeline
Chords
Buy Full Lesson
Chords & Lyrics
The Band never released this song Evangeline as a single. It appears on the box set entitled "The Last Waltz" from 1978. This was the original members of the band captured here performing before they split up and many have since passed on. There simply two chords in this song and they are G and a D.
---
2. Ophelia
Chords
Buy Full Lesson
Chords & Lyrics
This song is actually about heroine in case you were wondering. It was written by band member Robbie Robertson and was one of the tracks on their 1975 album Northern Lights Southern Cross. It was also the lead single from the album. As popular as The Band was, they never has a top 20 song in the US and their highest ranking song in Canada was a #10. This song reached #62 on the US charts. Vince Gill and My Morning Jacket have covered the song.
---
3. The Night they Drove Old Dixie Down
Chords
Buy Full Lesson
In 1969 this song hit the airwaves and was The Band's highest charting song at #10 in Canada and #25 in the US. It was from the album "The Band". Joan Biaz had a #3 hit with her version a few years later in 1971. The song is about the last year of the American Civil War and was researched by Robbie Robertson and Levon Helm before the story was developed around the melody that Robertson already had at the time. The chords in this song are pretty simple with a G - C - Em and an A.
---
4. The Weight
Chords
Buy Full Lesson
Chords & Lyrics
In 1968 the album Music From Big Pink was released and hence came this single called The Weight. The song reached #63 in the US, #35 in Canada and #21 in the UK on the charts. There were several releases of the song and it was also covered by Aretha Franklin and Diana Ross. It is probably the best known songs by The Band.
5. Up On Cripple Creek
Chords
Buy Full Lesson
Chords & Lyrics
This also hails from the 1969 album "The Band" and reached #25 on the Billboard Hot 100. Another simple chord structure here using the A - D - E and Gbm chords.
---
Thanks for stopping The Band greatest hits page and I hope you found what you were looking for.
---
The Band Documentary
---
HomePage
Classic Rock Bands