The Promised Land
Chords And Lyrics
On The Acoustic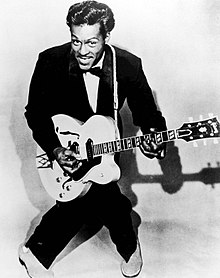 Welcome into my page called The Promised land chords and lyrics for this great tune from Chuck Berry. Below is a video of Chuck cranking this one out, my full demo version, lyrics and a free pdf chord sheet. If you need more instruction there is a full video lesson for a small fee.
The Promised Land
Chords And Lyrics
Demo Tips & Pdf
While doing time, Chuck Berry borrowed an atlas from the prison library to plot the destination and stops along the way from Norfolk VA to The Promised Land, which is this song was Los Angeles CA. The song peaked at #41 in the US after his release from prison but was covered by other artists including Elvis, who took the song to #14. The Grateful Dead played this song 425 times during live concerts from 1971-1995. That has to be some kind of a record.

Drop D Tuning =  No
Capo = No
Rhythm = you can play either all downstrokes, or play a down up down up in a steady pace
Picking = Yes
Chords = C, F, G
---
The Promised Land Lyrics
I left my home in Norfolk Virginia - California on my mind
Straddled that Greyhound rode him into Raleigh - On across Caroline
Stopped in Charlotte and bypassed Rock Hill and we never was a minute late
We was ninety miles out of Atlanta by sundown - Rollin' outta Georgia state
We had motor trouble it turned into a struggle- Half way 'cross Alabam
And that 'hound broke down and left us all stranded in downtown Birmingham.
Straight off, I bought me a through train ticket ridin cross Mississippi clean
And I was on that midnight flyer out of Birmingham smoking into New Orleans
Somebody help me get out of Louisiana just help me get to Houston town
There抯 people there who care a little 'bout me and they won't let the poor boy down
Sure as you're born, they bought me a silk suit - Put luggage in my hands
And I woke up high over Albuquerque - On a jet to the promised land
Workin' on a T-bone steak a la carte flying over to the Golden State
The pilot told me in thirteen minutes - He would sit us at the terminal gate
Swing low sweet chariot, come down easy - Taxi to the terminal zone
Cut your engines, cool your wings and let me make it to the telephone
Los Angeles give me Norfolk Virginia - Tidewater four ten O nine
Tell the folks back home this is the promised land callin'
And the poor boy's on the line
Thanks for dropping in in my page called The Promised Land chords and lyrics and I hope the info here was helpful.
---
Chuck Berry
The Promised Land - Chuck Berry
---
Homepage --- Acoustic Guitar Rock N Roll