Tracy Lawrence Songs
On The Acoustic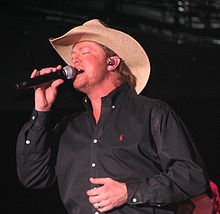 Here on this Tracy Lawrence songs page you'll find a collection of demo covers and full lesson tutorials available for purchase along with several free chord sheets in pdf. format. Help yourself to the free chord sheets where available.
Tracy Lawrence Songs - Tutorials
1.
Cant Break It To My Heart
---
Chords
- -
Cart
All Wrapped Up In Christmas was not written by Tracy Lawrence but was released as a single and became the title of his Christmas album when it hit the shelves in 2007. This particular song peaked at #57 in Jan 2008.
Two versions of Find Out Who Your Friends Are were released back in 2006. One from Lawrence featuring himself and another with Kenny Chesney & Tim Mcgraw. It was recorded on Tracy's label and became the first song to reach #1 by an artist from their own label. The song also had the 2nd slowest climb to a #1 hit taking 41 weeks. The record is a song from Matchbox 20, which took 42 weeks.
---
How A Cowgirl Says Goodbye was co-written by Tracy Lawrence and two others and was a #4 hit back in 1997. A music video was also created for this one.
After a four year dry spell of not having a top 5 song, Tracy Lawrence broke that dry spell in 2004 with this one called Paint Me A Birmingham, which peaked at #4. Ken Mellons also released a version within the same week, but his version never got much traction.
---
From 1996, Stars Over Texas peaked at #2 for Tracy Lawrence when it became the 3rd single from the album Time Marches On. There is also a music video for this song and Lawrence was a co-writer on this tune.
Sticks And Stones was the lead single and debut album title from Tracy Lawrence when it was released in 1991. Tracy had been shot in the knee and hip while protecting his girlfriend around the time this song was released and some of that publicity some say helped propel the song to #1.
---
Time Marches On was the 3rd single from the album of the same when it hit the airwaves in 1996. The song stayed at #1 for three weeks and also spawned a music video. The song received several CMA nominations but never won any awards.
---
Tracy Lawrence - Interview
---
You might like these also ...
Thank you for dropping in on this Tracy Lawrence songs page.
---
HomePage --- How To Play Country Guitar