50s/60s | Country | Folk | Gospel | Irish | Ladies | Motown R&B | Pop | Rock Artists | Rock Bands | Vegas | Xmas | All

---
Contact Me
Pricing: $3.25ea | any 10 for $10 (use code "Any10410" at checkout) | $.50ea best deal
Paid Requests for $25ea (comes with any 8 freebies ... so 9 for $25)
100's Of Free Demos & Chord Sheets

---
Kirby's Guitar Lessons

I help others ignite the musician within by mastering their favourite acoustic songs with confidence while bringing them to life and skill-fully performing those melodies on the acoustic guitar.
Discover Your Musical Passion: Unleash Your Unique Sound
Have you ever dreamt of strumming the chords to your favorite songs, evoking the soulful melodies of your musical heroes, or simply finding your own unique voice on the strings of a guitar? The desire to play with heart and soul is a yearning shared by countless music enthusiasts worldwide.
At KirbysGuitarLessons.com, I understand that the journey of learning the guitar is more than just acquiring knowledge; it's about finding your passion, expressing your emotions, and forging a lifelong connection with the music that moves you.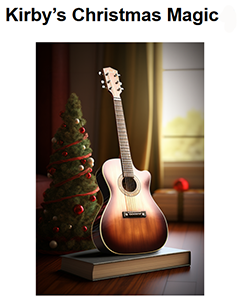 5 FREE Christmas Lessons - Click Here
---
Why KirbysGuitarLessons.com ?

Extensive Library Of Songs: My extensive library of over 3000 guitar tutorials (and growing weekly) spans the genres of country, rock, blues, folk, 50s and 60s classics, pop, motown, gospel and more. I'm not just about teaching you how to play; I'm here to connect you with the heart and soul of each genre.
Inspiration: Every lesson is a journey into the heart of the music you love. My tutorials are designed to inspire you, blending rhythm with bass and riff notes to bring a fuller authenticity to every song, making your playing skills stand out above the rest.
Versatility: Whether you're a beginner starting from scratch or an experienced player looking to master new styles, my tutorials cater to all skill levels. Find the guidance you need to bring your musical aspirations to life and I'm always available via e-mail if you get stuck.
Free Resources & Affordable: Numerous kindred guitar enthusiasts, much like yourself, have ventured into the world of exploring my free demos, downloaded complimentary chord and lyrics sheets, and taken the first steps with small purchases at the outset of their musical journey to gauge their affinity for what I offer. They all share your fervor for playing, broadening their repertoire, and, in some instances, even performing weekend gigs to earn that extra bit of musical magic."
No Complicated Theory: My approach delves straight into the soul of the music. No need to grapple with complicated tabs or scales. Instead, I'll guide you through easy-to-grasp chord shapes, rhythm patterns, riffs, and picking breaks, seamlessly enhancing the piece. Let's dive straight into playing the song.
Your Musical Odyssey Begins Here
Don't let your dreams of becoming the guitarist you've always wanted to be fade away. The stage is set, and your potential is waiting to be unlocked. You have the songs in your heart; I have the guidance to bring them to your fingertips.
Choose to embark on your musical journey with me here at KirbysGuitarLessons.com. Let the power of my guitar tutorials resonate through your soul, shaping your unique musical story. Whether you're performing for an audience, recording your masterpiece, or simply strumming by the fireside, I'm here to help you unleash your musical potential.
Explore the vast library of tutorials, check out some of the free tutorials on the site, and let your guitar dreams take flight. Your stage is right here, and your moment is now.
Your music, your emotions, your journey - KirbysGuitarLessons.com is where it all begins.
---
For Those Who Have Asked
How To Donate To This Site

---
Dec 05, 23 09:02 PM

Free chords for In Color by Jamey Johnson and acoustic demo for you to learn!

Nov 28, 23 08:21 AM

Learn country songs by Aaron Lewis right here with my free demo, chord sheet and more!

Nov 24, 23 11:31 AM

Learn Van Morrison Tupelo Honey songs and more on guitar and other hits with my free demos, chord sheets and more!

Week Ending 17th Dec 23

1. In Color - Jamey Johnson



---

---
---
Want To Improve Your Rhythm?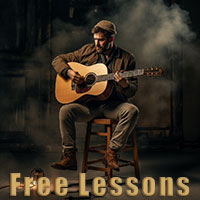 - -





---
Let's Stay In Touch
Get My Latest Tutorial
Updates Every 2nd Sunday
---
---
---
Visit Me On Youtube
After 1st Week in Aug 2023

KirbysCovers On Youtube