Welcome To Kirby's Guitar Lessons

Are you trying to learn guitar songs covering 50's, 60's, Vegas, Bluegrass, Country, Gospel, Folk, Irish, Christmas, Motown, Blues, Pop or Rock?
I've got you covered with lessons on more than 1250 artists covering several thousand songs. There are also several thousand free .pdf chord sheet downloads and a few video demos.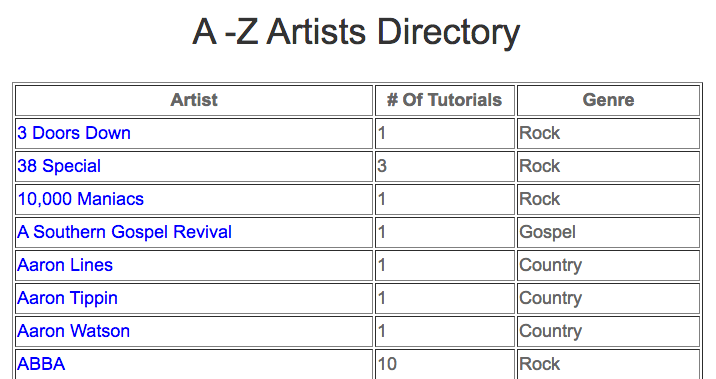 If you know the band or artists you're looking for, use my A-Z Directory to see all of the artists and bands I cover songs by on this site ... or use the "Search Box" in the upper right corner (for mobile it's at the bottom of the page).
---
Some Artists I've Covered
As you'll discover when you explore this site, I teach full instructional tutorials on how I play specific songs in various musical genres including: 
50's Rock n Roll - Elvis, Chuck Berry, Eddie Cochran, The Everly's and ...
60's Classics - The Seekers, Mama's & Papa's, Dion, Peter & Gordon and ... 
Bluegrass - Doc Watson, Fastlane, Skaggs, Marty Stuart, The Dillards ...
Country - Hank, Garth, Cash, Chesney, Haggard, Emmylou, Combs ...
Folk - Amos Lee, Lightfoot, James Taylor, Paul Simon, Carley Simon, Dylan ...
Gospel - Casting Crowns, Donna Taggart, Jonny Lang, MercyMe ...
Irish - Gaelic Storm, Celtic Thunder, Christy Moore, The Dubliners ...
Motown & Blues - Clapton, Smokey, Four Tops, Withers, SRV, Ray Charles ...
Pop - Madonna, Adele, Ricky Martin, Beiber, Sheryl Crow, Kracker ...
Rock - Stones, Beatles, Springsteen, Orbison, Zeppelin, Journey, Elton ...
Vegas - Sinatra, Dean Martin, Tom Jones, Manilow, Wayne Newton ...
The shell of this site has been around since early in 2019 but the real content is just getting started. This was due to setbacks in several areas which I won't get into, but looking forward to new page layouts, tons of content and hopefully valuable tips to help you get on with enjoying playing the acoustic guitar.
Thank you for stopping by and taking the time to explore my site as the work in progress continues.