50s/60s | Country | Folk | Gospel | Irish | Ladies | Motown R&B | Pop | Rock Artists | Rock Bands | Vegas | Xmas | All

---
Contact Me
Pricing: $3.25ea | any 10 for $10 (use code "Any10410" at checkout) | $.50ea best deal
Paid Requests for $25ea (comes with any 8 freebies ... so 9 for $25)
100's Of Free Demos & Chord Sheets

---
Best Acoustic Guitar Christmas Songs
Best Acoustic Guitar Christmas Songs
On The Acoustic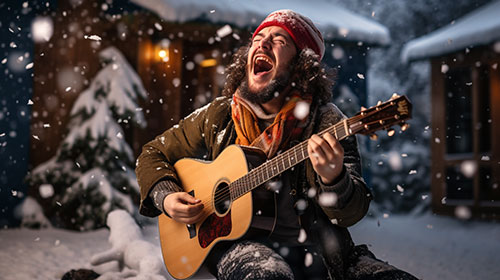 Welcome to my enchanting world of the best acoustic guitar Christmas songs, where the timeless melodies and heartwarming lyrics of the holiday season come alive through the acoustic guitar.
On this page, I invite you to embark on a musical journey that spans generations and genres, featuring iconic artists such as Elvis Presley, George Strait, Bing Crosby, Judy Garland, and many others. With over 60 tutorials meticulously crafted, this collection brings you the joy of learning and playing these beloved Christmas classics.
Whether you're a beginner or an experienced guitarist, I have something for everyone. So, grab your guitar, immerse yourself in the magic of Christmas, and let the strings strum the melodies of the holiday spirit.
Best Acoustic Guitar Christmas Songs

I have two sections here you can jump to and see which songs will best fit your desire. Click on each section link below to see what song titles I have lessons.

Christmas 1
---> Alabama, Andy Williams, Anne Murray, Billy Squier, Bing Crosby, Blake Shelton, Bobby Helms, Burl Ives, Christina Rossetti, Daniel O'Donnell, Dion, Doug Stone, Elvis Presley, Gary Glitter, Gene Autry, George Strait, Jimmy Durante, John Lennon, Judy Garland, Kenny Chesney, Ned Perme, Rodney Carrington, Scotty McCreery, The Irish Rovers, The Kinks, Tracy Lawrence, Wynn Varble
Christmas 2
---> Alan Jackson, Alvin And The Chipmunks, Brenda Lee, Charley Pride, Charlie Daniels, Chuck Berry, Darius Rucker, Gwen Stefani, John Legend, Johnny Matthis, JT Hodges, Michael Martin Murphy, Nat King Cole, Perry Como , Randy Travis, Roger Miller, Skip Ewing , The Beach Boys, The Eagles, Toby Keith, Tony Bennett, Travis Tritt, Vaughan Monroe, WHAM
---
Christmas Section 1

Alabama - Christmas In Dixie

Andy Williams - It's The Most Wonderful Time Of The Year

Anne Murray - Away In A Manger, Hark The Herald Angels Sing, This Season Will Never Grow Old

Billy Squier - Christmas Is The Time To Say I Love You

Bing Crosby - I'll Be Home For Christmas, White Christmas

Blake Shelton - Christmas Eve

Bobby Helms - Jingle Bell Rock

Burl Ives - Have A Holly Jolly Christmas

Christina Rossetti - In The Bleak Midwinter

Daniel O'Donnell - Christmas Day 1915

Dion - Christmas Baby Please Come Home

Doug Stone - A Christmas Card, An Angel Like You, The First Christmas

Elvis Presley - Blue Christmas

Gary Glitter - Another Rock n Roll Christmas

Gene Autry - Here Comes Santa Claus

George Strait - Christmas Cookies

Jimmy Durante - Frosty The Snowman

John Lennon - Happy Christmas

Judy Garland - Have Yourself A Merry Little Christmas

Kenny Chesney - All I Want For Christmas Is A Real Good Tan

Ned Perme - Christmas Time In Arkansas

Rodney Carrington - Camouflage And Christmas Lights

Scotty McCreery - Christmas In Heaven

The Irish Rovers - Christmas In Killarney
The Nitty Gritty Dirt Band - Colorado Christmas

The Kinks - Father Christmas

Tracy Lawrence - All wrapped Up In You

Wynn Varble - I'd Be Jolly Too

Jump To Top
---
Christmas Section 2

Alan Jackson - Let It Be Christmas, Silent Night

Alvin And The Chipmunks -  The Chipmunks Song

Brenda Lee - Rockin Around The Christmas Tree

Charley Pride - The First Christmas Song

Charlie Daniels - Mississippi Christmas Eve

Chuck Berry - Run Rudolph Run

Darius Rucker - What God Wants For Christmas

Gwen Stefani - Under The Christmas Lights, You Make It Feel Like Christmas

John Legend - You Deserve It All

Johnny Matthis - Sleigh Ride

JT Hodges - Joy To The World

Michael Martin Murphy - The Cowboy Christmas Ball

Nat King Cole - The Christmas Song

Perry Como - There's No Place Like Home Like The Holidays

Randy Travis - Old Time Christmas, White Christmas Makes Me Blue

Roger Miller - Little Toy Trains

Skip Ewing - My Name Is Christmas Carol, Someone Else's Star

The Beach Boys - Little Saint Nick
The Eagles - Please Come Home For Christmas

Toby Keith - Mary It's Christmas

Tony Bennett - Winter Wonderland

Travis Tritt - Santa Looked A Lot Like Daddy

Vaughan Monroe - Let It Snow

WHAM - Last Christmas

Jump To Top
Thank you for visiting my best acoustic guitar Christmas songs page. As our musical sleigh ride comes to an end, I hope that THIS collection of Christmas song tutorials on acoustic guitar has brought you joy, inspiration, and a deeper appreciation for the magic of the holiday season.
From the soulful crooning of Tony Bennett to the timeless charm of Brenda Lee, each song carries a unique story and a cherished place in the hearts of countless people around the world. Remember, the magic doesn't have to fade once the holiday season is over. Keep practicing, honing your skills, and spreading the joy of these songs throughout the year.
Don't forget to download the free chord sheets and try out the demos I've prepared for you. If you're looking to further enhance your guitar-playing experience, consider supporting the site by purchasing their a few lessons.
Thank you for joining me on this melodious journey, and may the spirit of Christmas continue to inspire your musical endeavors. Wishing you a harmonious and joyous holiday season!"
---
Home Page
History Of Christmas (wiki)