Contact Me
Tutorials $3.25ea (fingerpicking $5) or any 10 for $10 (use "Any10410" at checkout)
Best Deal - Any 50 for $25 Details here.
Paid request to learn your fav song $25 (comes with any 8 freebies - so 9 for $25)
Eric Clapton Album Covers
On The Acoustic
Check out these Eric Clapton album covers on the acoustic below. On this page you'll find many free pdf chord and lyric sheets along with tutorial demos and links to purchase full lessons in .mp4 format.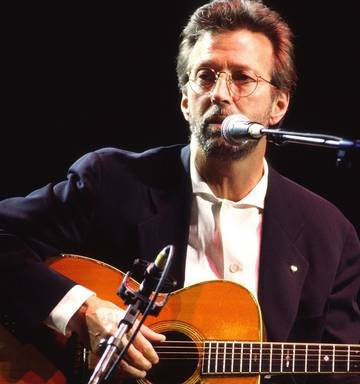 ---
 Eric Clapton Album Covers
 - Tutorials
1. Before You Accuse Me
Chords
Bo Diddley wrote and recorded this song back in 1957. Clapton actually recorded this song on four different occasions for various album releases up thru the years. Eric Burdon from The Animals and CCR have also covered this song.
---
2. Bell Bottom Blues
Chords
This song came about as a request from George Harrison's wife Patty Boyd who requested Clapton pick her up a pair on Bell Bottoms (wide flare pants at the bottom) from the USA on his next trip there. Apparently that fashion statement had not hit the UK yet. Boyd was married to Harrison for 11 years, divorced him and married Clapton and then they divorced after 10 years.
---
3. Easy Now
Chords
This song was written by Clapton and appeared on the 1970 B-side of After Midnight and again on the B-side of the 1972 single "Let It Rain". Because of that the song did reach the charts in several countries with it's highest placing in Canada at #10.
---
4. Further On Up The Road
Chords
This is an old 1957 tune first recorded by Bobby "Blues" Bland who had some success with his version. The original title is Farther Up The Road but Clapton changed it to the first line in the song to "Further On Up The Road". This song was one of many Eric Clapton album covers that appeared on several albums, the first one back in 1976.
---
5. How Deep Is The Ocean
Chords
This songs goes way back to 1932 and was written by Irving Berlin. Clapton recorded a version for his 2010 album "Clapton".
---
6. I Can't Stand It
Chords
From his 1981 album "Another Ticket", Clapton scored a #1 hit in the US and Israel with this single. The song also crossed over and hit #10 on the US Hot 100 Charts.
---
7. I Shot The Sheriff
Chords
Another Eric Clapton album covers song, this time from Jamaican artist Bob Marley, who wrote this song and recorded a version in 1973. But it was Clapton's version a year later that got all of the attention. He had a #1 hit with his cover.
---
8. I've Got A Rock & Roll Heart
Chords & Lyrics
A single release in 1983 and some commercial use by T-Mobile but this one in the top 20 for Clapton.
---
9. Layla
Chords
The idea for this song goes back to the 7th century and then the 12th century when the story was put into a poetic form. A book was given to Clapton who was inspired by the story and the parallels in his own life with his infatuation of Patty Boyd who was George Harrison's wife at this time in 1970.
Derek and The Dominos drummer Jim Gordon co-wrote the song with Clapton. The song reached #1 in both 1971 and in 1992 with Clapton's Unplugged version.
---
10. Let It Rain
Chords
This song was actually a B-side track to "Easy Now" from 1972 and has appeared on over a dozen Clapton albums through the years. Clapton wrote this one.
---
11. Malted Milk
Chords
Several of Eric Clapton album covers reached back into the early days of the blues, including this old Robert Johnson tune from 1937. Clapton did a great cover on this tune.
---
12. My Fathers Eyes
Chords
Clapton wrote this song about his father whom he never met and about his young son who died at age four falling from an apartment window. The single was released from the Pilgram album of 1998 and won a Grammy Award the following year.
---
13. Promises
Chords
Clapton did not write this one but had a top 40 hit song in several countries with this one when it was released in 1978.
---
14. Rambling On My Mind
Chords
Eric Clapton first recorded this old Robert Johnson song from 1936 in 1966 on an album called "Blues Breakers With Eric Clapton".
---
15. Rockin Chair
Chords
Another one of Eric Clapton album covers dating back to 1929 and a song written and first recorded by Hoagy Carmichael. Several artists have recorded this on including Louis Armstrong and Eric Clapton, who did his cover in 2010.
---
16. They're Red Hot
Chords
Another classic here from Robert Johnson from 1936. There is a great rehearsal TY clip of Clapton with the late Billy Preston in studio trying to get a final take on this song. Worth watching for sure.
---
17. Watch Out For Lucy
Chords
Clapton wrote this one and put it on the B-Side of his 1978 single release of "Promises".
---
Thanks for stopping by this Eric Clapton album covers page. I hope you found what you're looking for on this page.
---
Eric Clapton Biography
Eric Claptons Official Website
---
HomePage
Motown Rhythm And Blues