50s/60s | Country | Folk | Gospel | Irish | Ladies | Motown R&B | Pop | Rock Artists | Rock Bands | Vegas | Xmas | All

---
Contact Me
Pricing: $3.25ea | any 10 for $10 (use code "Any10410" at checkout) | $.50ea best deal
Paid Requests for $25ea (comes with any 8 freebies ... so 9 for $25)
100's Of Free Demos & Chord Sheets

---
Blind Blake Songs
On The Acoustic
Welcome to an extraordinary odyssey through the world of Blind Blake songs and his timeless blues melodies. Blind Blake, born Arthur Blake, is a celebrated figure in American blues history known for his unique control on his guitar and his diverse repertoire. His career spanned from the mid-1920s to early 1930s, in which he recorded over a staggering 80 songs. His legend, the depth of his craft, and the mystery surrounding his life continues to enamour blues musicians and enthusiasts alike.
You'll find 5 songs below with guitar chords and lyrics in a free pdf download, as well as free rhythm tips on playing these classic Blind Blake songs.
Blind Blake Discography:

Blind Blake's discography is expansive and profoundly influential in the blues genre. His albums include collections like "Blind Blake, Vol. 1" (1926 -1927), "Blind Blake, Vol. 2" (1927), "Ragtime Guitar's Foremost Fingerpicker", and retrospective albums like "The Very Best of Blind Blake". While his songs were primarily released as singles, they were later compiled into these albums.
Born in Jacksonville, Florida in the late 19th Century, Blind Blake made his name in the 1920s and 1930s, a period of great cultural and economic change. This was during the era of Prohibition and the Great Depression, significant historical contexts that shaped his music and the blues genre as a whole.

Jump links to quickly access the Blind Blake song sections.
---
Blind Blake Songs
Chords, Lyrics, Rhythm Tips, Tutorials
1. Bad Feeling Blues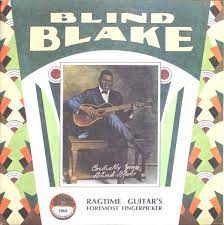 Bad Feeling Blues is a classic example of his talent. While the lyrics often revolve around common blues themes of heartache and trouble, it's Blake's guitar work that truly stands out.
His intricate finger-style guitar playing, characterized by fast and nimble finger-picking, is a hallmark of his songs, including "Bad Feeling Blues."
Chords & Lyrics
Jump To Top
---
2. Chump Man Blues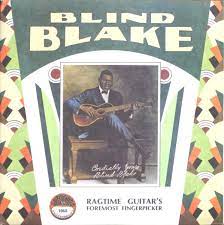 Chump Man Blues has very little info on it on the web.

Drop D Tuning: No

Capo: No

Rhythm: root down up root up down up and repeat


Picking: Yes

Chords: D - G7- A7



Free Chord Sheet
Jump To Top
---
Blind Blake's Cause Of Death
While Blind Blake and his blues contemporaries were often singing about struggle and hardship, they also created entertaining, rhythm and blues-infused melodies. Their music served as a form of therapy and distraction from the harsh realities of the era.
Very little is known about the details of Blind Blake's personal life but his early death, in the mid-1930s, has been revealed to be a bad cause of pneumonia at the age of 38. It's believed he died somewhere in Wisconsin.

---
3. Diddy Wah Diddy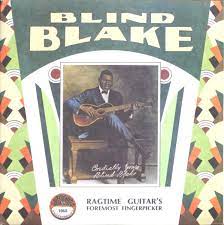 Diddy Wah Diddy is one of Blind Blake's most famous and enduring songs.
The song showcases Blind Blake's incredible fingerpicking technique. He used a complex, syncopated fingerpicking style that involved intricate patterns and alternating bass notes, which became a signature of his music.
Chords & Lyrics
Jump To Top
---
4. Early Morning Blues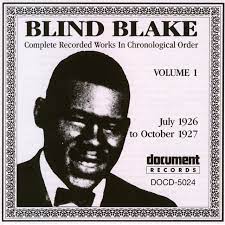 Early Morning Blues was recorded by Blind Blake in 1927. This song is a prime example of his intricate fingerpicking technique and mastery of the acoustic guitar.
The lyrics in "Early Morning Blues" typically revolve around themes common in blues music, such as love, hardship, and the struggles of everyday life. In this song, the singer reflects on the difficulties of waking up early in the morning, which is a sentiment that resonated with many during the Great Depression era.
Drop D Tuning: No

Capo: No

Rhythm: root down up root up down up and repeat


Picking: Yes

Chords: C, C7, F, G7, A7, D7

Chords & Lyrics
Jump To Top
---
5. Hard Pushin Papa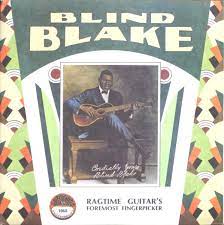 Hard Pushin Papa was recorded by Blind Blake recorded in 1929.
One of Blind Blake's strengths as a songwriter was his ability to craft engaging narratives within his songs. "Hard Pushin' Papa" is an example of his storytelling prowess, as it paints a vivid picture of the central character and his struggles.
Drop D Tuning: No

Capo: No

Rhythm: root down up root up down up ad repeat


Picking: Yes

Chords: G- C7 - D7- A7

Chords & Lyrics
Jump To Top
---
6. Georgia Bound .. (not Blues)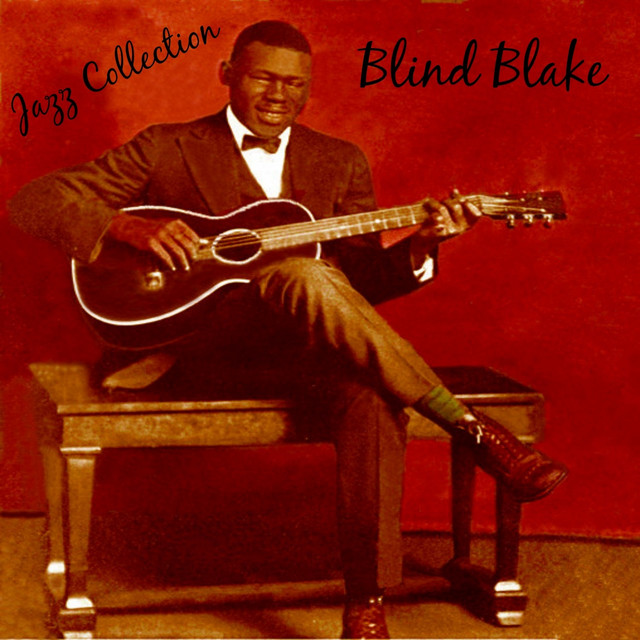 Georgia Bound is a famous blues song recorded by Blind Blake back in 1927. This track is a great example of his unique and impressive guitar style. Blind Blake was known for his skill in playing the guitar, and you can hear it clearly in this song.
The lyrics of "Georgia Bound" tell a story about someone leaving Georgia and going somewhere else, maybe because of personal problems or not having enough money. This was a common theme in many blues songs during that time, which often talked about the difficulties faced by African Americans in the early 1900s.
Blind Blake's guitar playing in "Georgia Bound" is outstanding. He used a style called Piedmont blues, which involves intricate fingerpicking and switching between different bass notes. His guitar work is full of rhythm and complex patterns that made him stand out as one of the best guitarists of his era.
"Georgia Bound" is an essential part of Blind Blake's music collection and shows why he's considered a big influence on blues musicians and guitar players. His recordings, including this song, continue to inspire blues musicians and guitarists to this day.
Drop D Tuning: No
Capo: No
Rhythm: root up down up  and repeat mixed with a few riffs

Picking: Yes
Chords: C-F-G7-C7-Adim
Chords & Lyrics
Jump To Top
---
7. Police Dog Blues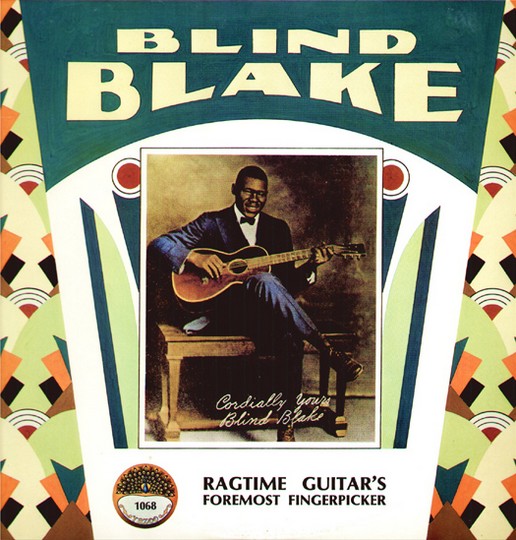 Police Dog Blues is a famous blues song by Blind Blake, a guitarist and singer known for his impact on music. He recorded this tune in 1929, and it's one of his most famous works.
The song is an instrumental, meaning there are no lyrics; it's just Blind Blake playing his guitar. His guitar skills are extraordinary, with fast and intricate finger-picking and a rhythm that keeps you tapping your foot. Blind Blake's talent on the guitar shows how skilled he was in the Piedmont blues style.
Even without words, Blind Blake's guitar tells a story. The music is lively and energetic, creating a feeling of urgency and excitement. The title, "Police Dog Blues," hints at a chase or pursuit, and the music matches this with its dynamic and rhythmic performance.
Blind Blake's recordings, including "Police Dog Blues," have been incredibly influential in the world of blues guitar. His unique finger-picking style and complex arrangements set a high standard for future guitarists. This song is a timeless example of early blues guitar and continues to inspire musicians and guitar enthusiasts all around the world.
Chords & Lyrics
Jump To Top
---
Other Popular Blind Blake Songs & Top 5
Some of Blind Blake's most well-known songs include "West Coast Blues", "Early Morning Blues", "That Will Never Happen No More", "You Gonna Quit Me Blues", and "Diddie Wa Diddie", among others. His songs, much like Blind Blake himself, were known for their dynamism and variety, ranging from fast-paced dance tunes to low, soulful ballads. Many would class his top 5 as follows:

 Early Morning Blues
West Coast Blues

That Will Never Happen No More
You Gonna Quit Me Blues
Diddie Wa Diddie
---
Blind Blake's Musical Style
Blind Blake's musical style was rhythmically complex, incorporating elements of ragtime and what was then becoming known as 'Piedmont blues'. Known for his distinct and intricate finger-picking technique, Blake often played with a pick to create his elaborate ragtime and blues riffs. His guitar style, fast picking and all, has become iconic in the genre and is referred to as 'Piedmont blues'.
---
Yes Blind Blake Was Really Blind

Blind Blake's music not only stands as a testament to his genius, it serves as a footprint in blues history, paving the way for countless musicians. The vast legacy of Blind Blake songs continues to charm, inspire and entertain us, keeping the rhythm of the blues alive. Blind Blake may have lived in obscurity and died in mystery, but his music and influence continue to resonate today - in families' homes, in musician's instruments, in blues lovers' hearts and in every beats of American blues history.
---
Thanks for stopping by my Blind Blake songs for the acoustic page and I hope the info here was useful in helping you learn how to play some of these Blind Blake numbers on the guitar.
---
If you liked this Blind Blake page you might also like ... (click here)
Blind Blake's Life

---
Home Page