50s/60s | Country | Folk | Gospel | Irish | Ladies | Motown R&B | Pop | Rock Artists | Rock Bands | Vegas | Xmas | All

---
Contact Me
Pricing: $3.25ea | any 10 for $10 (use code "Any10410" at checkout) | $.50ea best deal
Paid Requests for $25ea (comes with any 8 freebies ... so 9 for $25)
100's Of Free Demos & Chord Sheets

---
Drive By Alan Jackson
On The Acoustic
Welcome to my Drive by Alan Jackson page you'll find the lyrics to this song, a free pdf chords and lyrics sheet along with tutorial demos and a link to purchase full lessons in .mp4 format.

---
Drive By Alan Jackson
Chords, Lyrics, Demo, Tutorial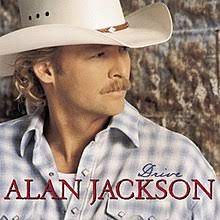 Drive became a #1 hit when it was released back in 2002. It's a song about Alan and his dad Eugene Jackson.
The song is from the album of the same name. Download the free Alan Jackson Drive lyrics below.
Drive Lyrics
It's painted red, the stripe was white
It was eighteen feet, from the bow to stern light
Secondhand, from a dealer in Atlanta
I rode up with daddy, when he went there to get her
Put on a shine, put on a motor
Built out of love, made for the water
Ran her for years, 'til the transom got rotten
A piece of my childhood, will never be forgoten
It was, just an old plywood boat
A '75 Johnson with electric choke
A young boy two hands on the wheel
I can't replace the way it made me feel
And I would turn her sharp
And I would make it whine
He'd say, You can't beat the way an old wood boat rides
Just a little lake across the Alabama line
But I was king of the ocean
When daddy let me
Drive
Just an old half-ton shortbed Ford
My uncle bought new, in '64
Daddy got it right, 'cause the engine was smoking
A couple of burnt valves, and he had it going
He'd let me drive her when we haul off a load
Down a dirt strip where we'd dump trash off of Thigpen Road
I'd sit up in the seat and stretch my feet out to the pedals
Smiling like a hero that just received his medal
It was just an old hand-me-down Ford
With three-speed on the column and a dent in the door
A young boy, two hands on the wheel
I can't replace the way it made me feel and
And I would press that clutch
And I would, keep it right
He'd say, "a little slower son; you're doing just fine"
Just a dirt road with trash on each side
But I was Mario Andretti
When daddy let me
Drive
I'm grown up now
Three daughters of my own
I let them drive my old jeep
Across the pasture at our home
Maybe one day they'll reach back in their file
And pull out that old memory
And think of me and smile
And say
It was just an old worn out jeep
Rusty old floor boards
Hot on my feet
A young girl, two hands on the wheel
I can't replace the way it, made me feel
And he'd say turn it left
And steer it right
Straighten up girl now, you're doing just fine
Just a little valley by the river where we'd ride
But I was high on a mountain
When daddy let me
Drive
Daddy let me drive
Oh he let me, drive
It's just an old plywood boat
With a '75 Johnson
With electric choke
Chords & Lyrics
Drive Tips
This number from Alan Jackson only has a handful of chords including the G, C, D, Em and A7. And I'm playing this one with a capo on the 4th fret. You may find it vocally a bit low in spots and a bit high in spots. Ref the capo and for the record, Alan Jackson plays this one with a capo on the 4th if you watch the video near the bottom of this page.
It's one of those songs with a wide range. Rhythm wise you can use of or two different patterns. In the verse I'm using a simple root down up root up down up and repeat. In some spots you could also play the bass note such as root down up bass up down up. In the chorus I find playing a double bass sounds a bit better. That would be by play a root down up  root down down up. If that trips you up, then skip it and stick with playing one pattern.
There is a lead break section in the middle of the song which is mainly just improvised on my part as it's mainly just a few distorted guitar slides as you'll see in the video from the love performance. So need to complicate the picking section.
Thanks for stopping by my Drive by Alan Jackson page and I hope the info here was useful.

A Few Questions About Alan Jackson

1. Is Alan Jackson still alive? ---> Yes he is.
2. Is Alan Jackson sick? ---> He has some sort of nerve degenerative disease called Charcot-Marie-Tooth disease, a degenerative nerve condition that affects his motor skills and that has interfered with his ability to perform. I'm not sure of his latest condition or if he will be touring in 2023.
3. How old is Alan Jackson? ---> Currently he is 64 and will be 65 on Oct 17th, 2023.

If you liked this Alan Jackson page you might also like ... (click images)

---
Alan Jackson Drive
---
Very Easy Country Guitar Songs
Alan Jackson Page