50s/60s | Country | Folk | Gospel | Irish | Ladies | Motown R&B | Pop | Rock Artists | Rock Bands | Vegas | Xmas | All

---
Contact Me
Pricing: $3.25ea | any 10 for $10 (use code "Any10410" at checkout) | $.50ea best deal
Paid Requests for $25ea (comes with any 8 freebies ... so 9 for $25)
100's Of Free Demos & Chord Sheets

---
Folsom Prison Blues Guitar Lesson
Folsom Prison Blues Guitar Lesson
Free For The Acoustic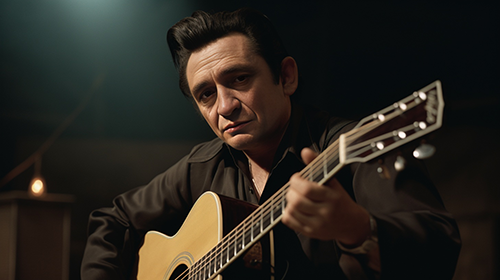 Welcome to my free Folsom Prison Blues guitar lesson page dedicated to the man in black, Johnny Cash. He was born on February 26, 1932, and passed away on September 12, 2003, was an iconic American singer, songwriter, guitarist, and actor. He is considered one of the most influential musicians of the 20th century, particularly in the genres of country, rock and roll, and folk.
Cash was born in Kingsland, Arkansas, and his music career began in the 1950s when he signed with Sun Records, a label known for its contributions to the emergence of rock and roll. He released several hits during this time, including "I Walk the Line" and "Folsom Prison Blues," which showcased his deep, resonant voice and his unique blend of country music with rockabilly and blues influences.
Throughout his career, Johnny Cash recorded numerous chart-topping songs, such as "Ring of Fire," "Man in Black," and "A Boy Named Sue." He was known for his rich baritone voice, his distinctive rhythmic style, and his heartfelt storytelling in his lyrics, often drawing from his own life experiences and the struggles of the working class.
Cash was also recognized for his live performances, including his legendary concerts at prisons, such as Folsom Prison and San Quentin. These performances showcased his empathy for the incarcerated and helped popularize his outlaw image.
On this page I'll explain to you how I play Folsom Prison Blues on the acoustic guitar. You'll find a free pdf chord sheet below as well.

---
 Folsom Prison Blues
Guitar Lesson
Video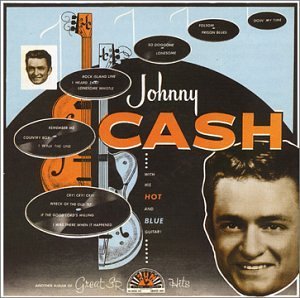 The song "Folsom Prison Blues" is included on Johnny Cash's debut studio album, titled "With His Hot and Blue Guitar!" The album was released in 1957 by Sun Records.
"Folsom Prison Blues" was written by Johnny Cash himself. He wrote the song while serving in the United States Air Force in Germany in the early 1950s. It was inspired by the 1951 film "Inside the Walls of Folsom Prison."
The track was released as a single in 1955. It became one of Cash's signature songs and performed well on the charts. It reached number four on the Billboard country chart and remained on the chart for a total of 39 weeks.
The song "Folsom Prison Blues" tells the story of a fictional inmate who laments about being locked away in Folsom Prison after he "shot a man in Reno just to watch him die." It reflects the feelings of regret, longing, and the desire for freedom. The song captures the experiences and emotions of prisoners, drawing on Cash's ability to empathize with those facing hardship.
While there is no official music video for "Folsom Prison Blues" from the time of its original release, there have been various video adaptations and performances of the song. Notably, Johnny Cash performed the song during his famous live concert at Folsom Prison in 1968. The concert was recorded, and footage from the event was used in subsequent documentaries and retrospectives. These recordings capture the electrifying energy and emotional depth of Cash's performance at the prison.
---
More Johnny Cash Tutorials Here
---
Folsom Prison Blues Lyrics
I hear the train a comin' - it's rolling round the bend
And I ain't seen the sunshine since I don't know when
I'm stuck in Folsom prison, and time keeps draggin' on
But that train keeps a rollin' on down to San Antone
When I was just a baby my mama told me
"Son, always be a good boy, don't ever play with guns"
But I shot a man in Reno just to watch him die
When I hear that whistle blowing, I hang my head and cry
Break
I bet there's rich folks eating in a fancy dining car
They're probably drinkin' coffee and smoking big cigars
Well I know I had it coming, I know I can't be free
But those people keep a movin' - and that's what tortures me
Break (optional)

Well if they freed me from this prison if that railroad train was mine
I bet I'd move it on a little farther down the line
Far from Folsom prison, that's where I want to stay
And I'd let that lonesome whistle blow my blues away.
Folsom Prison Blues Guitar Lesson Tips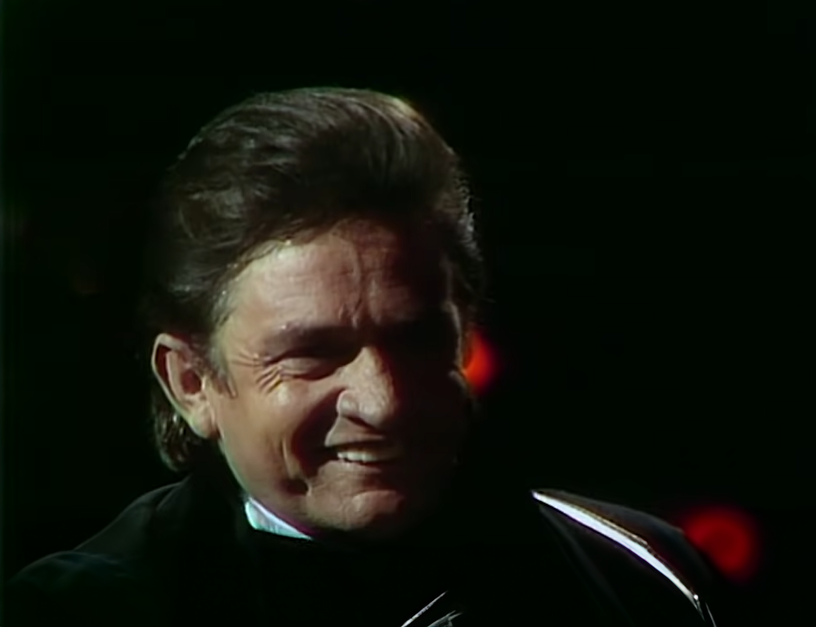 This classic is usually played in the Key of E, but originally it was recorded higher in B, but still using the E,A and B7 chord shapes, sop they used a capo on the 2nd fret. Over the years, Johnny dropped the key down 1 fret. In this video lesson, I'm not going to use a capo at all, but feel free to capo up if you feel the need to do so.

As already mentioned, the chords for this song are E, A and B7.

There are two ways you can play rhythm on this song. The first is a root down up down up down up and repeat. Or you can play a bass note by playing root down up bass up down up. I'll discuss both in the video lesson

The picking break in this is played higher on the fret board then I'm going to play it but in the lesson I'll show both positions. It's just the first part in E which can be played low or high, so with one guitar it sounds better low. And as the chord sheet and lyrics on this page indicate, you can play the same break twice or just skip the second break.
---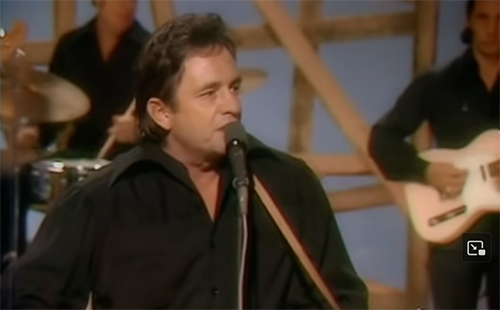 Apart from his music career, Cash also ventured into acting, appearing in films and TV shows. He starred in the musical drama "Walk the Line" (2005), which depicted his life and relationship with June Carter Cash, his second wife and musical partner. The film earned critical acclaim and an Academy Award for Best Actor for Joaquin Phoenix, who portrayed Cash.
Johnny Cash's personal life was often marked by struggles with substance abuse and personal hardships. However, he managed to overcome these challenges and continued to create music that resonated with audiences worldwide. His enduring popularity and influence earned him induction into the Country Music Hall of Fame, the Rock and Roll Hall of Fame, and the Gospel Music Hall of Fame.
Johnny Cash's legacy extends beyond his music. He remains an iconic figure in American culture, admired for his authenticity, compassion for the marginalized, and his ability to connect with audiences through his heartfelt performances. His music continues to inspire and influence countless artists across various genres.
Thanks for stopping by my Folsom Prison Blues guitar lesson page and I hope the info here was helpful.

If you liked this Folsom Prison Blues Guitar Lesson page you might also like ... (click images)

---
Johnny Cash Folsom Prison Blues - Live Performance

Home Page
Johnny Cash page