50s/60s | Country | Folk | Gospel | Irish | Ladies | Motown R&B | Pop | Rock Artists | Rock Bands | Vegas | Xmas | All

---
Contact Me
Pricing: $3.25ea | any 10 for $10 (use code "Any10410" at checkout) | $.50ea best deal
Paid Requests for $25ea (comes with any 8 freebies ... so 9 for $25)
100's Of Free Demos & Chord Sheets

---
Words Of Love Chords
On The Acoustic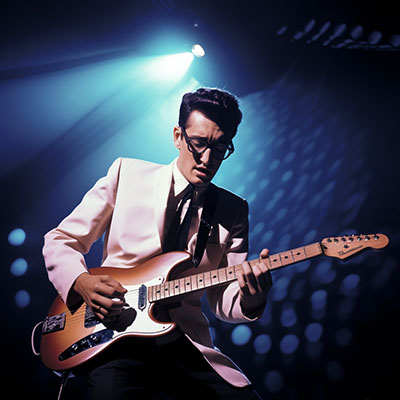 Welcome to my Words Of Love chords page you'll find the lyrics to this song, a free pdf chords and lyrics sheet along with tutorial demos and a link to purchase full lessons in .mp4 format.  
---
Words Of Love Chords
Chords, Lyrics, Demo, Tutorial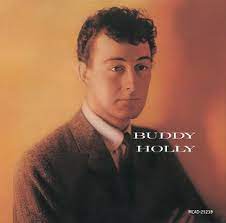 Words Of Love was written by Buddy Holly and released it in 1957, but the song did not chart. It's found on the album "Buddy Holly". Buddy also sang harmony with himself on this song. In 1993 a compilation album called Words Of Love was released and it reached #1.
The Diamonds did a doo-wop version of this song also and scored a #13 hit in the summer of 1957. Essentially this was Buddy Holly's first hit song as a writer, not as a performer. The Diamonds also performed the song on a live TV show called Circus Time. It also later appeared on a 1962 Mercury album called Pop Hits.
The Beatles also covered this song as McCartney and Lennon were both big Buddy Holly fans. Between 1958 and 1962 George Harrison and John Lennon sang the song, but when they did their official recording, it was Lennon and McCartney who sang the song. They did their version in just two takes. There is a live BBC radio album of 40 songs with The Beatles performing this one called On Air Live At The BBC Vol 2.
Paul McCartney coved the song acoustically in 1985 and other covers are out there from Jessica Lee Mayfield, Pat DiNizio, Shoes, Jimmy Gilmer, Mike Berry, The Pete Best Band, Patti Smith and Jeff Lynn from ELO.
Drop D Tuning - No
Capo - 2nd fret

Rhythm - root down up root up down up in a rake pattern

Picking - yes a few sliding riffs

Chords -  G, C, D

Little Known Facts About Words Of Love
Did you know that Words of Love" was written by Buddy Holly himself. He was a prolific songwriter and penned many of his own hits.
The song was inspired by Holly's love for his then-girlfriend and later wife, Maria Elena Santiago. They had recently met and fallen in love, and this heartfelt song reflects his affection for her.
"Words of Love" was recorded by Buddy Holly and the Crickets on April 8, 1957, during a recording session in Clovis, New Mexico, at Norman Petty's studio.
Over the years, "Words of Love" has been covered by various artists, including The Beatles, who recorded their own version for their album "Beatles for Sale" in 1964.
The original version recorded by Buddy Holly was not released until 1983 on the album "The Buddy Holly Collection."
While Holly's version of "Words of Love" wasn't initially released as a single, it has been featured on various compilations and posthumous albums, ensuring its enduring popularity.
In 2011, Buddy Holly's version of "Words of Love" was selected for preservation in the National Recording Registry by the Library of Congress for its cultural, artistic, and historical significance.
Words Of Love Lyrics
Hold me close and - tell me how you feel
Tell me love is real - um um um
Words of love you - whisper soft and true -
Darling, I love you - um um um
Break
Let me hear you say - the words I long to hear
Darling, when you're near - um um um
Words of love you - whisper soft and true
Darling, I love you - um um um
Um Um Um — Um Um Um - Um Um Um
Download the free Buddy Holly Words Of Love chords and lyrics sheet below.

Chords & Lyrics


Full tutorial and demo lesson avail for $3.25


Words Of Love Tips
It sounds like the original recording is in A with no capo. You can clearly hear the A, D and E chords. I chose to use a capo on the 2nd fret and play it in the G, C and D arrangement. I'll sometimes do this mainly for the lead arrangement or because the song sounds fuller in the different chords vice the original ones, but I'm still in the same key or A.
As you can see in my demo I'm playing  root down up root up down up pattern using a bit of a slow rake on the first down stroke. You can also use a root down up down up root up down up pattern if you wanted.
And at the end of each verse after the um um um there is a bit of arpeggio going on and in various places there is some lead work and some quick moves to get back on the rhythm. I believe this is the reason I chose the G chord structure because in the A position with one guitar it would have been more challenging to play this part.
This song could be played in any three chords. So if you're starting in E you would use an A and a B7. Start in A and use a D and an E. Start in C and use an F and a G. Start in D and use a G and an A.
Thanks for stopping by this Words Of Love chords page and I hope the info here was useful and helpful.
There Is No Buddy Holly Official Website
---
Words Of Love - Buddy Holly

---
If you liked this Words Of Love chords page you might also like ... (click images)

---
Home Page
50s And 60s Music