America Band Songs
On The Acoustic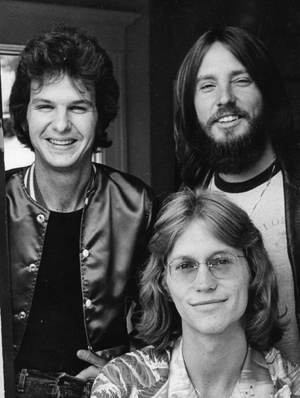 Here on this America band songs page you'll find a collection of demo covers, rhythm tips and links to a few full lesson tutorials available for purchase along with several free chord sheets in .pdf format. Help yourself to the free chord sheets.
America Band Songs
Chords, Lyrics, PDF, Tips
---
America Band Songs Facts
1. Daisy Jane
Gerry Beckley wrote this song and the band included it on their 1975 "Hearts" album. This is the same as the first single came from which was "Sister Golden Hair". Daisy Jane being the 2nd single peaked at #20 and was their last top 20 as a trio.
Producer George Martin, who worked with The Beatles, played piano on this track. Janet Jackson released a song in 1986 called "Lets Wait Awhile". After being contacted by Gerry Beckley, she decided to do an out of court settlement for possible plagiarism.
---
2. Horse With No Name
Dewey Bunnell and America released this song in the latter part of 1971 (UK) and early 1972 in the USA. The song went to the top almost immediately on the Billboard Hot 100 chart and peaked in the top 10 in the UK at #3 and Ireland at #4.
American never had another top in in the UK, just this song. There was some controversy over the song making references to drugs and that it sounded very much like Neil Young.
---
3. Lonely People
Dan Peek recorded a version of this song with America in 1974 where the song peaked at #5 and then he re-wrote song of the lyrics and released it again as a Christian song in 1986 where it reached #1. Dan and his wife both wrote the song.
He thought that Eleanor Rigby by The Beatles was a real downer type song for humanity, and decided to write a song that up-lifted humanity instead and this song was that song.
---
4. Sister Golden Hair
This song came from the 1975 "Hearts" album and was a #1 hit for the band. Gerry Beckley wrote this one while they were touring with Jackson Browne. He made a few suggestions to the lyrics, which Beckley agreed with him and made changes before they recorded the song.
---
5. Tin Man
This song almost never got recorded if Gerry Beckley, who wrote the song, had gotten his way. But Dewey Brunnell and Dan Peek dis-agreed and the song eventually was released as a single from the 1974 "Hearts" album.
It reached #4 on the US charts but failed to chart in the UK. George Martin, producer, also played piano on this track.
---
6. Ventura Highway
A very well known song from America but the song never hit the top or the charts in 1972 but did reach #8. Jesse Ventura had liked this song apparently and his wife was a horse lover, so at his inauguration as Governor, he invited the band to come and play those two songs, which they accepted.
---
7. You Can Do Magic
Gerry Beckley and Dewey Brunnell went on with their band America after the death of Dan Peek. They had not seen a top 40 since 1976, so when they released this song, in 1982, it put the band back in the spotlight as a duo when it peaked at #8 on the charts.
This song also helped promote their album "View From The Ground".
Thanks for stopping by this America Band songs page and I hope you found the info here helpful.
---
America Documentary
HomePage
American Rock Bands Fm America Band Songs